The Complete Beer Pong Setup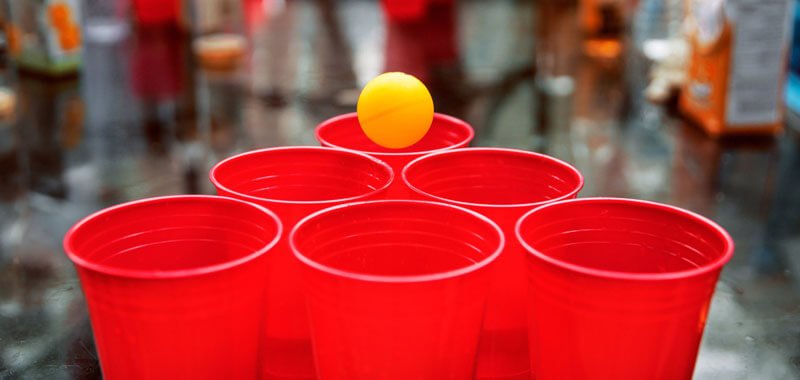 What do you get when you combine a ping pong ball, plastic cups, alcohol, and college students determined to win while impressing the opposite gender? A simple but wildly popular drinking game that has expanded far beyond its American roots.
Although its origin is highly contested, the general consensus is that it started in Dartmouth College in the mid-1950s and was played with not only ping pong balls, but the paddles as well (thus its other name party pong). Since then, revisions made to the game included removing the paddles—instead just throwing the ball with your hand—and introducing a stricter set of rules.
For those unfamiliar with the game, beer pong is played with two teams, each with up to four players. Players stand behind opposite ends of a long table and take turns throwing a ping pong ball into the opponent's beer-filled cups that are arranged in a pyramid shape. Once a ball falls into one of the opponent's cup, they must drink it and set it aside. The team who sinks all their enemy's cups first wins.
Get in on the action and kit out your man cave with these recommended tables, balls, and other accessories.
Beer Pong Tables
Acting as the field for the game, beer pong tables come in all shapes and sizes but all have one thing in common - length. Tables must be long enough to provide considerable distance between the two teams.
Tournament tables are 96 inches long, 24 inches wide, and 27.5 inches tall.
Full-size Foldable Table
| | |
| --- | --- |
| Weight | 21 lbs |
| Dimensions (LWH) | 96" x 24" x 27.5" |
Get the full beer pong experience with this tournament-ready, regulation table from GoPong.
Spanning 8 feet long, the frame is made from decent-quality aluminum while the top is made from medium-density fibreboard (MDF) with a durable melamine surface layer to protect it against scratches, cracks, and of course, inevitable beer spills.
The legs fold out from under the table and lock into position to create a flat surface. That includes a set of legs in the middle for extra support.
Make sure the legs do in fact lock into place. We noticed that leaning on the table can lead to one side collapsing pretty easily.
Going one step further, the table top is comprised of four pieces that are connected by hinges. They conveniently fold into what we can only describe as an oversized briefcase 24 inches long/high and merely 5.5 inches wide.
Four styles available:
Standard black (pictured)
Rustic American flag
Football field
Whiteboard to make your own designs
Although being slightly more expensive than some of the other tables on the market, it is super-portable, well-constructed, and designed for drunk partygoers. Other tables will tempt you with their price but would be lucky to survive one night of games.
Mini Table Game
| | |
| --- | --- |
| Weight | 4.9 lbs |
| Dimensions (LWH) | 23.5" x 8.5" x 0.8" |
Not all of us have the room in our man caves to set up a regulation-sized table.
If you aren't planning to join a professional beer pong league and just want a fun new drinking game to play with your buddies, this is for you.
What you get:
Beer pong board
Mini plastic cups (x25)
Tethered ball
Two ball catapults
Instruction sheet
Various spare accessories
It is made from MDF wood and features precise cutouts for the mini cups and to prevent them from tipping or sliding off the board.
Overall, the compact design and tethered ball mechanics make it the ultimate game for tailgaters and vacationers alike.
Beer Pong Accessories
A table will only get you so far. Complete your set with these essential accessories, including plastic cups, a set of balls, and a book for bedtime reading.
Disposable Cups
| | |
| --- | --- |
| Capacity | 18 oz |
| Pack size | 200 |
Good old Solo Cups. Where the amount you had of them littered over the house was directly proportionate to the success of the party the night before.
This set of 200 red disposable cups is enough to fuel 10 games of beer pong assuming none of them are reused.
Made in America from BPA-free plastic, they don't stick together or have an unusual chemical aftertaste.
Also available in blue, black, and transparent.
Ball Set
Like socks disappearing in the void of washing machines, ping pong balls have a tendency to go missing.
That, combined with the fact that they will be dunked in various people's cups of beer, and it makes sense why you should invest in a 50 pack.
These ones measure 44mm in diameter (standard size), are marked with the maker's logo, and are the proper thickness meaning they have a more controlled bounce and spin.
Buy in bulk and never have to worry about rinsing off a dirty ball again.
The Official Guide


See Current Price The Book of Beer Pong by Dan DiSorbo contains everything you would hope to know about the "sport of champions" - beer pong.
History, rules, detailed guides accompanied by awesome illustrations; DiSorbo manages to thoroughly cover all parts of the game in such a serious tone that makes you question whether you are part of a joke.
Regardless of his intentions, the tips inside the book will genuinely improve your game. It makes for an awesome man cave coffee table book too.