The Best Coffee & Espresso Machines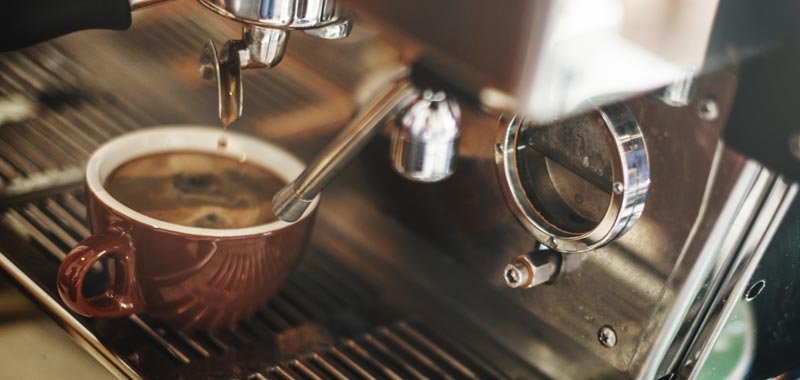 There is nothing quite like a perfectly brewed cup of coffee to kick-start your day. Trouble is, those days can be few and far between. Unless you have a coffeemaker in your house or a cafe around the corner, it is either instant coffee or nothing.
We can't convince an entrepreneur to set up a cafe next to you, but we can select the best machines which are high-quality, compact, economical, and made to be in your man cave. And that is exactly what we have done!
Espresso Machines
Massive commercial units are there for churning out coffees one after another. So unless you operate a side business from your den, smaller is better. Below are our top picks for the three main types of home espresso machines on the market.
Nine Cup Nespresso Machine


See Current Price Nespresso has been around for decades, and in that time have mastered function, design, and giving coffee-fiends their fix.
Make your daily cuppa by simply pulling back the U-shaped handle, inserting your favorite pre-packaged capsule, pushing the handle back in place, and pressing one of two buttons (depending on the size you want).
We know, capsule-run machines are not everyone's cup of tea (excuse the pun), but you have to admit they:
Allow even the most clumsy of us to make great espressos
Standardize volume and strength
Don't require you to manually grind beans
Leave you with little to no cleanup
Stay fresher for longer
Allow you to enjoy a range of flavors from around the world
The 19-bar pressure system takes less than a minute to make an espresso. And thanks to the large 24 oz water capacity tank, 8 additional cups can be made before you even have to think about refilling it.
In terms of design, the core parts are brought close together (i.e. the water tank to the brewer, and the brewer to waste tray) and wrapped tightly by the durable plastic housing. This both saves space and gives it a unique, futuristic look.
Complement your man cave's color scheme by choosing either the black, silver, industrial gray (pictured) or red version.
A storage drawer for the pods is definitely recommended. Not only do they store up to 50 capsules, but they raise the machine off the counter to avoid marks and act as a backup drip tray.
Official source of pods can be found here.
Breville Barista Machine (Updated Model)


See Current Price If you prefer the traditional way of choosing fresh beans, grinding them by hand, and getting the tamping pressure just right, this is a solid pick.
Starting from the top, it features a funnel-shaped stainless steel burr mills that stores a significant amount of beans. The main difference between this and blade grinders is that burr mills are designed to turn beans into a uniform size and shape each and every time - critical to a great espresso. The blade, although cheaper, produces inconsistent sizes and shapes; some finer, others coarser.
Down a few inches is the minimalist control panel. Thanks to the customizability, you are able to control extraction and flow rates. Toggle between filter sizes depending on whether you use a single wall or double wall basket. As with most products in this price range, saving a previous configuration is a button press away.
Sporting a 15-bar Italian pump, creamy espressos will come thick and fast as you don't need to wait for it to cool down.
For those of you aren't aficionados of this craft, pump and piston driven heating mechanisms are the most common in today's machines. The pump utilizes a thermocoil which takes and heats only a certain amount of water from the tank whereas the piston boils the entire thing. 15-bars is generally accepted as providing the ideal level of pressure.
The 2.1" tamper is what you would find in most machines in the same price bracket, however, it has a cool magnetized rim which secures it in place but is still easy to remove.
Other features:
Steam frother with plastic handle and full circle swivelling (far superior to its competitors)
Removable water tank with a capacity of 67 fluid oz
Removeable drip tray with an indicator that lights up when full
Classic Bialetti Moka Express


See Current Price Because we eat, sleep and breathe the man cave lifestyle, we know that big automatic machines aren't always feasible. If you already have one in the kitchen, a second one down the hall isn't going to improve your life (after all, it also means double the cleanup).
That being said, having to venture out of your den for every cup becomes tedious. What if you could get the best of both worlds? Well, you can with the Bialetti Moka Express. Simply make a batch on your stove and bring it back to your den, giving you up to 12 cups of uninterrupted caffeine consumption.
What is it and why is it "classic"? The Moka pot is a small stove-top espresso maker that dates back to 1933 when it was patented by an Italian named Alfonso Bialetti. Known for its brilliant design and ability to make incredible coffee via pushing pressurized water through ground beans, what you get here is very much like what you would back then.
Key features:
Durable aluminium build
Unique geometric shape which evenly distributes heat
Ergonomic handle
Pressure release valve
Easy to use. Add water, add coffee, add heat, and enjoy!
Size options: 1, 3, 6 (pictured), 9, or 12 cup capacity
Color options: Black, red, orange, blue, purple, and silver (pictured)
Whether it is to impress your friends or for the sake of convenience, a Moka pot will give you what you need.
Automatic Coffeemakers
When the process of making a coffee is longer than actually drinking it, we are more inclined to buy at cafes. Automatic coffeemakers are designed for simplicity and producing large quantities at a time, with each brew making enough to last 12 hours.
1-Cup Coffee Pot Machine


See Current Price As great as coffee pots are for daily use, they don't make ideal travel companions. Luckily, this piece of kit from Hamilton Beach gives you two ways to enjoy your morning cup of joe - in a pot and in a thermos flask.
It handles both ground coffee and pre-packaged pods. Just slide out the side compartment and empty it over the mesh filter.
The control panel is simple yet contains everything you need. A switch controls which method of brewing you want; a power button starts the process, and minute/hour buttons program it to start up to 24 hours in the future. You can even determine the strength (regular to strong).
Overall, this is a great option if you utilize both methods of making coffee. We highly recommend getting a machine which specialized in one method if you will leave the pot gathering dust (and vice versa).
Manual Makers
Manual may equate to more work, but their advantage of being compact and portable has led to a meteoric rise in popularity in recent years.
After reviewing 7 different brands and models, the ones below rose to the top by smashing their competition in every department.
All-in-one Cold Brewer


See Current Price There are hundreds of portable coffee makers on the market, each with a unique twist. Trouble is, a lot of them try to pass off that twist as their unique selling proposition when it doesn't even improve the coffee.
This particular cold brewer has impeccable looks and, most importantly, the functionality to match.
The bulk of the exterior is made of ABS plastic with a modern, dark gray coating. It is the same stuff LEGO uses as it is both safe and ridiculously durable. The internal tank is made of a copolyester (PCTG to be exact) which is strong, adaptable, and resistant to chemicals. Together, you get a thermos-like brewer that won't scald your hand.
Key features:
Portable. With the shape of a water bottle, it can fit in backpacks and some car cup holders
Easy to use, taking mere minutes from start to finish
3.3 oz capacity reservoir
Impressive amount of pressure
Requires minimal cleanup
Who is this for? Men that don't want to mess around tamping, banging, cleaning and grinding every day. People who are in and out of the house and would rather not pay an exorbitant price for what can essentially be done at home.
Top Pick: The AeroPress


See Current Price Saving the best for last, the AeroPress has been the go-to coffeemaker for most of us here at Man Cave Insider.
Origin
The AeroPress was invented by Alan Adler, president of Aerobie. "What has aero/air got to do with America's favorite hot beverage?" Turns out that Aerobie--Alan Adler's first claim to fame--is a light, bendable ring used for throwing around (think Frisbee 2.0) and the AeroPress came in 2005, decades after his first hit.
Though having products in completely different industries garnered a lot of media attention, the reason why it has stayed at the top is because it is works incredibly well.
Parts
Six parts make up the kit, including:
A chamber which holds ground beans and boiling water
A plunger for, well.. pressing down
700 paper filters which are disposable and environmentally-friendly
A scoop for consistent measurements
A funnel to help avoid messes
A paddle/stirrer (not essential)
Note: After various studies found that BPA, a chemical used to coat packaging in order to avoid contamination, was a potential health risk, Aerobie made the move to be 100% BPA-free. Just another reason why it is our favorite!
Process
Despite its simple design, people have found dozens of ways to use it. Different types of beans, different grind consistencies, different temperatures, different timings - each resulting in something special. For a recommended recipe to start with, check out this video:
Not able to view it? The steps are as follows:
Weigh between 10-35g of your chosen beans
Grind until semi-coarse (skip if using already grounded coffee)
Boiler water to ~180 degrees Fahrenheit
Insert a filter into the cap and gently soak it with water
Throw in beans and pour ~5 fluid oz of water
Stir to combine
Attach the cap to the chamber and flip it upside down onto a mug
Press down until all water is transferred
Add milk, sugar, more water, and whatever else you desire
Enjoy!
The entire process takes under 2 minutes and is strangely relaxing and therapeutic. Cleaning is just a matter of throwing away the leftover puck of coffee and rinsing each part.
If anything could leave your fancy barista machine gathering dust, this is it.