6 Awesome Bottle Openers For Your Home Bar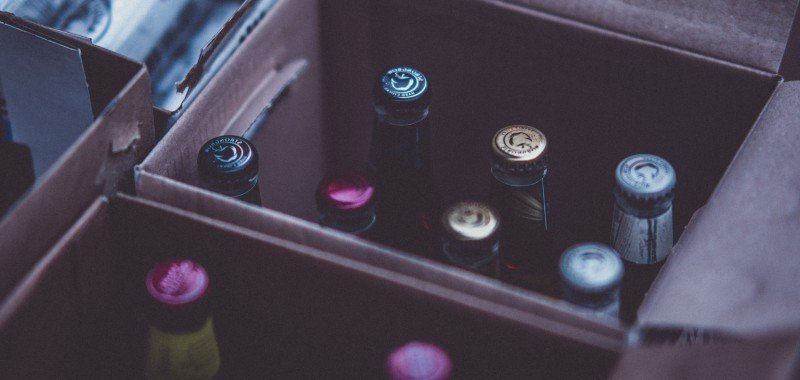 If one thing is inevitably going to be lost at a party, it is the humble bottle opener. It starts in the drawer, is used a few times before being put on the table. Then somehow ends up behind the couch or over the fence into your neighbor's property.
Once lost, it becomes a free for all - guests using whatever hard surface they can find to crack open their bottle.
Wake up to find your table chipped, and dozens of bottle caps dispersed across your man cave and garden.
This can all be avoided by getting these unique wall mounted bottle openers and setting them up strategically around the place.
Check out our man cave bar ideas
Bruntmor Magnetic Zinc Alloy Opener


See Current Price Starting in 2014 with soda spoons, Bruntmor has exploded their range of consumer homewares, with this zinc alloy opener being one of their top sellers.
It is 8 inches tall and 1-inch thick and is handcrafted from high-quality porous Merbau wood and stripe design, finished with a water (or in this case, beer) resistant coating. The zinc alloy opener is securely screwed into the wood in two places.
Sections of the backside are chiseled out and replaced with incredibly sturdy magnets that catch falling caps effortlessly.
Note that it claims to hold up to 50 beer caps but we found that it handles more like 10 before having to be removed.
If your man cave has a fridge or metal surface, the easiest installation method is simply attaching it using the magnets. If not, you will have to replace the two screws with some longer ones in order to screw into a wall.
Available in the following styles: Merbau wood (pictured above), epitong, rubberwood, and metal.
Vintage Cast Iron Openers (3-Pack)


See Current Price This set of bottle openers is made from durable cast iron, each coming with two screws to install directly on your den's wall.
The main benefit of this pack is that you can have them in the three most frequented parts of your bar, meaning it is less effort for people to find an opener. Thus, less mess to clean up in the morning.
Available in black (pictured above), bronze, light bronze, silver, and brown. All made from cast iron but have different paint finishings.
Wall Mounted Metal Catcher Bin


See Current Price Can't be bothered to constantly remove bottle caps from a magnetic catcher? This wall mounted metal catcher bin is stylish, will never rust, and increases cap capacity tenfold.
Both the opener and cap catcher have a shimmering matte black finish and are built with long-lasting cast iron.
One concern we had is that traditional mounted bottle openers are essentially flush to the wall, whereas this design comes out 2.5 inches meaning it is important to install where people may hit their shoulders on.
Installation is straightforward. Included in the package are two mounting screws for the bin, two screws for the opener to attach to the bin, and two plastic anchors in case your wall material is fragile and can't take the weight by just the screws.
If you plan on having parties with even half a dozen or more people, we highly recommend this opener as magnetic catchers will overflow too fast leading to caps being left elsewhere.
Free Fall Magnetic Cap Catcher


See Current Price Constructed from high-quality stainless steel, this cap opener features a standalone N52-grade neodymium magnet. This allows you to mount the catcher at any height, turning it into a game to see how low the magnet can be and still catch the caps.
Even the packaging is first-class, being presented in a stylish black box with an opening lid. Making it a perfect gift.
CAPLORD, the makers of this product, also sell some awesome silicone beer coasters.
Novelty Grizzly Bear Bottle Opener


See Current Price Ones above too plain for your liking? Treat yourself to this novelty grizzly bear opener and take your man cave to the next level.
Made from cast iron, it is shaped like a bear with the mouth as the opener. Simply place your bottle inside and use the teeth as the leverage point.
Note: Due to the unique design, some bottles won't fit, but rest assured that nearly all consumer beer brand bottles will.
Available in the black bear style (pictured above) and brown bear style, as well as with or without catcher bins.
Handheld Beer Openers (3-Pack)


See Current Price Not everyone is able to freely put screws into their walls. If you are in a rental or don't have a suitable surface available, a handheld churchkey is the obvious alternative.
Coming in at 7 inches tall and 1.5 inches wide, these bad boys are a staple in any respectable bar across the world.
They are made from high-grade stainless steel and coated in a thin rubber material for extra grip.
Attach a string to the hole in the end so it doesn't go missing or simply spin it around your finger to keep up the appearance of being a bartender.
Tip: Go the extra mile and customize them by wrapping different color/style paracord around the handles, giving them even more grip and making them that much more personal.
---
How to open a beer without an opener?
There comes a time in every man's life where he finds himself with a beer and no conventional opener. Knowing what to do can save yourself from staring at a cold, fresh unopened beer unable to enjoy its fruits.
So, what is the trick? Physics.
It comes down to using an object as a lever by wedging it into the underside of the cap and prying open without breaking the bottle.
The most common ways are with a lighter, key, belt, or corner of a table (and subsequently hitting the top).
Practice makes perfect.
Why is it called a churchkey?
Handheld bottle openers are sometimes referred to as "churchkeys" due to their design resembling the embellished keys that opened old-style churches.