Best Cocktail Shaker Sets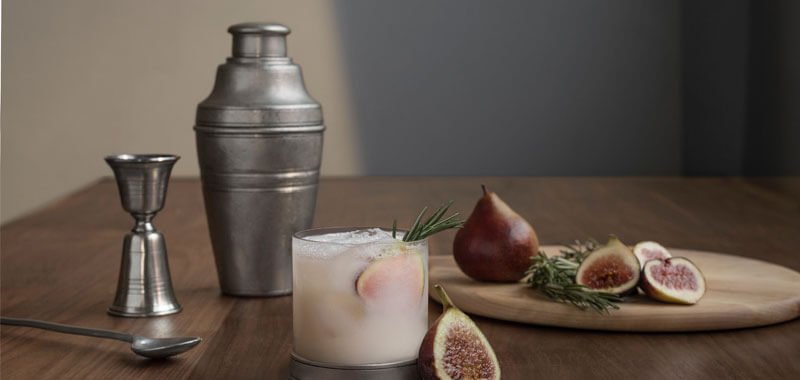 Whether you are looking to become a career mixologist or just want to impress your friends in your home bar, there are three critical things you must have: patience, ingredients, and the right tools.
Without patience, you'll give up and use the leftover limes for dinner. Without ingredients, you'll be mixing whiskey with nothing else but more whiskey. And without the right tools, you won't be able to properly mix flavors, dilute drinks, or make some of the more complex cocktail recipes.
Here are three of our most recommended cocktail shaker sets to start you off. Then all you need is a dose of patience and a trip to your local grocery store.
Mixology Bartender 10-Piece Kit


See Current Price This 10-piece bartender set contains everything an aspiring cocktail specialist needs. Martinis, Manhattans, mojitos, and margaritas - this equipment can make it.
Contents:
24 oz stainless steel shaker with built-in shaker and seal cap
Muddler
Hawthorne strainer
Spoon mixer
Double-sided jigger for measuring liquor (0.5 oz and 1 oz)
2x pourer nozzles
Tongs
Corkscrew
Bamboo platform
The glossy stainless steel accessories are complemented by a natural bamboo platform that keeps everything in their own compartment.
This is a commercial-grade, premium quality bartenders set which will last you decades. And as an added bonus, you get access to the maker's online catalog with countless recipes to trial and master.
3-Piece Cocktail Shaker Set


See Current Price This cocktail shaker set is comprised of a 24-ounce shaker, a traditional mixing spoon, and a two-sided measuring jigger - all made from high-grade stainless steel.
While a three-piece set may not seem like enough, it provides just enough to get started without becoming overwhelmed by having to use a strainer, mash fresh herbs with a muddler, or pour alcohol through a nozzle at a precise angle.
The additional accessories can be bought once you master the basics.
How to use the shaker:
Select a recipe and get the ingredients ready
Measure the right amount of each ingredient using the jigger
Pour into the shaker
Fill it with ice (up to three quarters)
Place the lid on the shaker and firmly tap on the top using your palm to secure it
Hold the lid with one hand and the main cup with the other and shake for 20 seconds (full guide here)
Unlodge the lid and carefully pour your creation into glasses
The 10-piece set above is more what you would expect to see in a bar—from the range of tools and construction quality—but for the price, this set is perfect for beginners and occasional cocktail makers.
Stainless Steel Rotation Shaker


See Current Price This 3-piece shaker set is similar to the one above but with a unique twist. Some of the most iconic cocktail recipes are built into the shaker, including the ingredients and measurements. Rotating the base reveals the next.
Recipes include the Cosmopolitan, Margarita, Mai Tai, Manhattan, Mojito, Whiskey sour, Martini, and Tom Collins.
With an airtight seal and made from high-quality stainless steel, it is excellent value for money and more than enough to go from a beginner to an intermediate mixologist. Once the recipes are imprinted in your brain, you go upgrade to a professional shaker set.
Accessories
You can only get so far with a shaker and range of liquor. Take your cocktail game to the next level with these accessories.
Related: Home ice maker machines
Bitters Flavoring Sampler Collection


See Current Price Bitters are concentrated tinctures (fruit/plant/herb extracts dissolved in alcohol) that can be added to most types of drinks to dramatically enhance their flavor.
With only a few dashes, complex flavor profiles are introduced and traditional cocktails turn into something completely new.
Strongwater's sampler collection contains five 0.5 oz bottles of herbal bitters. They are sugar-free, GMO-free, don't need to be refrigerated, and despite being "samplers", can last for years.
Flavors:
Native Mountain Wildflower
Chocolate Vanilla
Spicy Lemon Ginger
Orange Licorice
Aromatic Turmeric
Strongwater also sells the same flavors in 3 oz bottles, however, are predominantly used in commercial bars and restaurants. It would take a good decade for us to finish them in our home bars.
Low Bottom Cocktail Glasses


See Current Price This set of four 8 oz low bottom cocktail glasses is a nice compromise from standard cocktail glasses. You get the iconic cone-shaped glass of which to put garnishes on, just without the long-stem. They are closer to your favorite whiskey glasses.
Being shorter also has the advantage of storage. Cocktail glasses are less frequently used than, say, wine glasses, so it doesn't make sense to take up a whole cupboard's worth of space.
That being said, one downside is that they aren't designed to stack.
A modern take on the classic cocktail glass, but one that maintains all the function while feeling solid in the hand and being easy to clean.
Tip: Place in the freezer 10 minutes before you are ready to serve. The glass is thick enough to not break and the coldness will trick your friends into thinking you are a seasoned mixologist.
Recipe Book: I'm Just Here For The Drinks


See Current Price With over 100 cocktail recipes inside, I'm Just Here For The Drinks by Sother Teague is one of our man cave bar essentials.
Containing all of the classics like the mojito and daiquiri, to the more obscure ones that incorporate your favorite liquor as bases with ingredients you wouldn't think in a million years to grind up and put in a drink.
The book is divided into spirit types and each recipe is well laid out, easy to follow, and accompanied with incredible photography.