Dart Boards For The Bar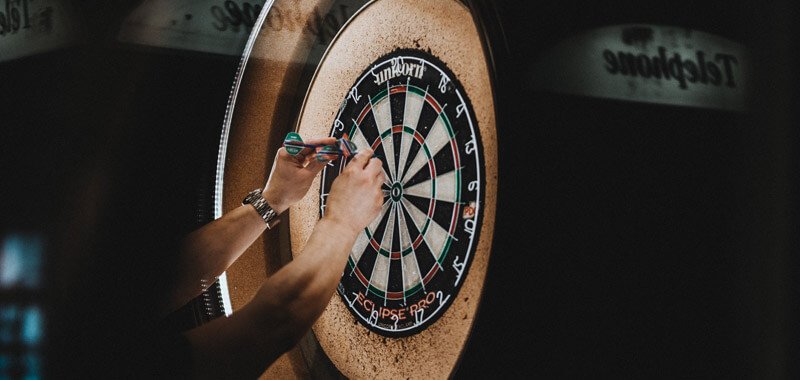 I remember it clearly: what would have been a game-winning throw ended up with the dart bouncing off the board's treble wiring, falling pitifully to the floor.
Speed was fine, the angle was accurate. No, it was the hundreds of games that gradually wreaked havoc on the soft cork, crevices, and cracks galore.
With the loss fresh in my mind I decided it needed to be replaced. I went on a mission to find the ultimate dart board; one to stand the test of time.
That was five years ago and the one I ended up buying is still going strong. The specific model is no longer in production but I have used what I learned while researching so you don't have to experience the above.
Dart Boards
There is a large range of dart boards to choose from and it is hard to differentiate the good from the bad. Coiled paper, cork, and sisal boards may look identical to the untrained eye, but they couldn't be more different in terms of durability and overall longevity.
Here are two boards we highly recommend for first-timers and professionals alike. They feature top-of-the-line material and have been used in some high-profile tournaments.
Alternative: Electronic boards are an option if you are not too serious about the game and prefer your hardwood floor not to be riddled with holes. They even do the counting for you!
Ignat Assassin Blade Pro
| | |
| --- | --- |
| Dimensions (LWH) | 18" x 1.5" x 18" |
| Weight | 11.4 lbs |
Household name brands such as Harrows, Target and Winmau have had the darts industry on lockdown for a while but small players have recently squeezed in to take a piece of the pie - Ignat Games being one of them. How? By making expertly crafted dartboards built for professionals and sold at the right price.
Ignat's Assassin Blade Pro is made from a densely-packed wall of Kenyan sisal fibers that allows darts to glide in, despite looking impenetrable. Once darts are dislodged, the fibers close the hole in what is known as "self-healing".
Rather than using a traditional wire spider (frame used to divide the segments), it features ultra-thin metal strips that reduce bounce considerably and open up a larger area to hit.
Included is a USB drive that holds an eBook titled "35 ways to play darts." No, it doesn't contain sensitive information guarded by the legends of the game but it does, however, contain a list of common games alongside the correct way to play them.
With a full mounting set containing solid brackets, bolts, and a tape measure, it only a matter of minutes to play your first game from it arriving at the door.
Everything together shows that Ignat wants to give his customers as much value as possible.
Winmau Blade 5
| | |
| --- | --- |
| Dimensions (LWH) | 17.8" x 1.5" x 17.8" |
| Weight | 10.7 lbs |
More than 70 years have gone into the Blade 5 bristle board; not just from advancements in technology and manufacturing, but from the professionals that have changed how the game is played.
Featuring an even thinner metal wire (0.35" wide around the doubles. 0.24" wide around the triples) in the shape of a prism angled at 60 degrees, bounce-outs are almost non-existent.
60 degrees may not seem that impressive, but when you think of how the Blade 4 nearly eliminated bounce-outs with a 90-degree angle wire, it shows how close we are to the first bounce-less board
A heat map plotting 10,000 hits would show 90% of the activity on 10% of the board. Hardly a surprise when you think of the main target: the triple 20. Play enough games and certain areas will be worn while others still looking brand new. Winmau solves this issue with their Rota-Lock™ system, a three-point wheel lock & level that is straightforward to set up, caters for uneven surfaces and makes it simple to rotate without the hassle.
Darts
With a modern dart being comprised of four parts (a flight, shaft, barrel, and point), each need to be as well-made as the other three otherwise the whole thing suffers.
For flights, symmetry and sturdiness are key. Polyester plastic, nylon or carbon fiber are what you need to look for; design comes second.
Shafts come in a range of lengths and materials. Longer shafts increase stability but require a harder throw compared to the shorter types. Nylon and plastic are cheaper but than aluminum but are lighter which increases wobble.
Barrels—the part you hold—provide the weight needed to control direction as well as the grip that leads to a consistent throw. In an attempt to reduce drag, there has been a recent trend towards "micro grips" which are a sweaty finger away from having no grippage at all. Remember: Grip = good.
Points: the difference between a good and bad one is a damaged board. Thin tips cut through the fibers, leaving no trace when dislodged.
Steel Tip Dart Set
These darts are constructed from high-quality material, and its customizability means you can find the configuration that best suits your style of play.
Parts:
Flight. Contains double the amount of flights than darts (six wide-profile / six slim-profile), each covered in tiny dimples said to increase stability. Glossy gold with brown star patterns
Shaft. Made from aluminum, they are super durable while adding the weight needed to balance out the point. Three measure 1.38 inches long; the other three are considerably longer at 1.89 inches)
Barrel. Straight-style brass barrels with grid grips (weighing 0.6 oz each)
O-ring. Standard o-rings to provide additional friction between the shaft and barrel
Accessories:
Specialty sharpener. Coarse, hollow tube which makes a huge difference to worn darts. Unlike pool chalk, it rarely needs to be used
Keyring tool. Used for reshaping bent shafts
Many things point toward this being the ideal primary dart set, however, the different sized shafts mean you can only play a fair game if both players share the same three darts.
We recommend investing in a second set if you have the cash to spare, leaving you with six darts of each size and 24 flights to mix-and-match.
Stainless Steel Flag Dart Set
When your niece & nephew come over for the weekend; when your overly-enthusiastic friend is a few beers down and challenges you to a game; when you just want to aimlessly throw to blow off steam - this is the set to reach for.
The polyvinyl (PVC) shaft and copper-coated barrel make them lighter than regulation (0.6 oz compared to the minimum 0.63 oz for competition) but also more resistant to damage from hitting the ground.
The country flags add a nice touch but, for the price, don't be surprised if they periodically fall off. That is nothing a little glue can't fix though. Simply add a drop of super glue to the end of the flight, pry open the shaft with a toothpick, and push it in (ensuring it is straight before leaving to dry.)
Tip: lay your dart board face up on the ground and push the darts in so they dry vertically