The Best Man Cave Fridges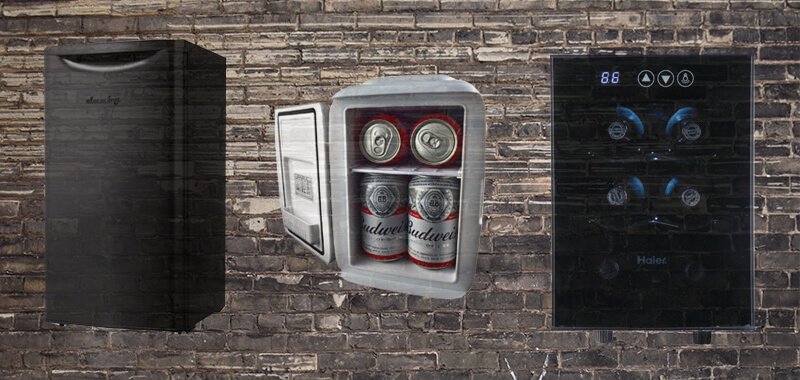 No longer do you have to walk to the kitchen for a single beer. With one of these, just reach down, pick a can from your cold companion and enjoy. And don't think you need a bulky fridge with all the bells and whistles; one smaller than that freezer compartment will suffice.
What To Look For
Fridges come in all shapes and sizes and are created for a range of purposes. For example, an electric one wired to a solar panel doesn't fit the description of a man cave fridge.
Other points to consider:
Room size - Are you tight on space already? Sacrifice a few cubic feet of storage and still enjoy refreshing beverages.
Room theme - Have a rustic-styled den? A carbon fiber cooler with pulsating blue LEDs won't look good.
Number of people - If your friends congregate in your cave every week, a mini-fridge with 6 cans won't last 10 minutes. After that, it's back to trekking to the kitchen.
Type of drinker - How much do you get through on an average week? Prefer sipping on a red or chugging Bud Lights? There's a different item for each group.
Energy efficiency - A high energy rating may cost more initially, but it could save you money in the long run.
Mini Beer Fridge
Also called 'mini-bars', these are what most people think of when hearing the words: "refrigerator for the mancave". They are affordable, practical, low energy-consuming machines.
We highly recommend the following ones as they don't suffer from that incessant hum found in a lot of alternatives.
Midea Compact Refrigerator
| | |
| --- | --- |
| Weight | 35.3 lbs |
| Capacity | 1.6 cubic feet |
| Dimensions (LWH) | 17.7" x 18.6" x 19.4" |
Firstly, this has an impressively sleek design and is made from stainless steel and iron; and comes in 4 finishes: black (pictured above), silver, white, and wood-tone.
The small top compartment claims to freeze stuff, however, from experience, we would say it chills stuff. In other words, it won't change water into ice but it will keep ice frozen. You have some control over this thanks to adjustable temperature controls.
Quiet compared to other mini fridges on the market but still emits a faint hum during its cooling cycle.
Other features:
Compartments for different sizes (e.g. bottles and cans)
Estimated annual energy usage = 207 kWh (~$25)
Cooluli Thermoelectric Fridge
| | |
| --- | --- |
| Weight | 4.8 lbs |
| Capacity | 6x 12-ounce cans |
| Dimensions (LWH) | 8" x 10.2" x 11" |
Bearing a resemblance to a Volkswagen Type 2, Cooluli's mini cooler packs a lot into a small frame (six 12oz cans to be precise).
It's only a flick of the switch between being a cooler or warmer. This is through using the Peltier Effect (i.e. thermoelectric) to create a heat flux between the materials. Unlike the standard refrigerator, these require less moving parts (quieter) and don't leak.
Manufacturer's note: Wait roughly 30 minutes before changing temperature settings.
An open can fall over? Cleaning is a breeze due to its size and lack of crevices/cracks inside.
Say you have a bike and car for transport. You can't go everywhere with a bike alone and you don't need a car to just go down the road. The fridge is akin to the bike.
Compact Fridge
The compact variety is similar to mini-fridges, only bigger. Range from 2 to 6 cubic feet. Not only can you store beer in these, you can stock up on snacks as well.
Danby - Classic Collection
| | |
| --- | --- |
| Weight | 51.7 lbs |
| Capacity | 3.3 cubic feet |
| Dimensions (LWH) | 20.4" x 17.7" x 33.1" |
This one from Danby merges a conventional, reliable cooling system with a premium build quality featuring a matte black door and rubber handle. The top is resistant to scratching; the tempered glass shelves can be easily clean; the storage compartments are well thought out, and the thin legs reduces noise/vibration in the room.
Being under 52 lbs, it is much lighter than other refrigerators this size but is still as sturdy.
The coils are screwed into the back and can be effortlessly removed - meaning you won't have to buy a new unit if only the coil breaks. Think of all the money companies make by making theirs unremovable.
If you still need more space, Danby sells a 4.4 cubic feet version with the inside as dark as the outside. Be sure to check it out.
Avanti Platinum Fridge with Freezer
| | |
| --- | --- |
| Weight | 92 lbs |
| Capacity | 7.4 cubic feet |
| Dimensions (LWH) | 23" x 21.5" x 56" |
Avanti, a big player in the home appliance field, has created this compact fridge which is designed for apartments but happens to also have the man cave tick of approval.
With a capacity of 7.4 cubic feet, it's more than double the size of the previous one, but that's necessary to have a 2 shelf freezer compartment. The freezer isn't big, but it does the job.
So not only can you fit in all the beer your heart desires, it can fit ice trays and frozen food. Eat that hangover away!
Other features:
120W energy consumption (less sound)
Customizable temperature control
2 rollers in the back
Wine Cooler
Mini/compact refrigerators serve many purposes, but storing wine bottles isn't one of them. The height and awkward shape of the bottles mean you'll only fit one per machine. And unless you want 10 fridges taking up half of your cave, a wine cooler is your best option.
Haier 6 Bottle Wine Fridge
| | |
| --- | --- |
| Weight | 17.6 lbs |
| Capacity | 6 cubic feet |
| Dimensions (LWH) | 20.3" x 14.1" x 9.9" |
This cooler looks good whether it's on the ground or on the bench of your bar. The soft legs won't scratch surfaces and the way the bottles are lit up inside make it pleasing to the sight.
The front glass panel has a smoky gray hue encased in a black trim.
Similar to Cooluli's miniature unit, Haier has adopted a thermoelectric cooling system which lets you control the precise temperature of your wines without the loud drones heard in commercial wine coolers. Even going as far as having different temperatures per department*.
6 Bottle version is the smallest they make. If you're a wine connoisseur or get a bottle as a gift often, the bigger ones will suit you better. Sizes include:
6 bottle capacity (this one)
8 Bottle capacity
12 Bottle capacity
16 Bottle capacity
18 Bottle capacity
Note: the Dual Zone Temperature feature is only available in the 3 biggest machines.