Lighting Your Man Cave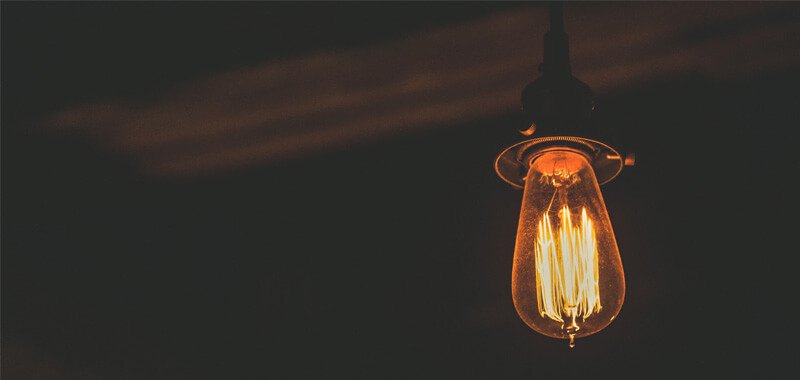 You have put blood, sweat & tears into your personal living space. Hours have been spent deliberating what should go where, what you can and can't afford, and if you should DIY or bring in an expert.
The finished product looks great during the day, but when the sun goes down, your one pre-existing light struggles to illuminate your man cave. Proper lighting didn't even cross your mind before that point.
Whether you can relate to the scenario above or are just starting the building process, the following ideas will help you display your creation in all its glory.
Ceiling Lights
This encompasses everything from low-hanging pendants, to over-the-top chandeliers, to recessed fixtures.
Industrial Sphere Fixture


See Current Price This exposed bulb, hanging from a thin cord, would look a bit plain if it stopped there. Luckily, metal strips encase it like electrons circling the nucleus.
"But won't it partially block the light?" Yes, and that is why it makes our list. Light being dispersed to different parts of the room does far more for the rustic style than any plain fixture could do. Think of how the Sun's rays cut through the walls of an old barn.
Another cool feature is the adjustable strips. Simply loosen the screws which hold them together and position them so as to highlight key items in your room.
Note: Make sure to buy an LED that is bright if this is to be your main light source. If it is your secondary source, opt for a dimmer filament bulb to achieve maximum aesthetics.
Rustic Bronze Bowl Light Shade


See Current Price Shades that. Whether hanging above your minibar or right over your coffee table, this style of ceiling fixture disperses light evenly and is a safe bet.
The weathered metal shade has a nice bronze finish which adds a gloss that will protect it for years to come.
Rustic not your thing but still like the shape? Good news - this specific model also comes in red, black, white, and silver.
Installation is a breeze (ironic since there no instructions) but choosing a bulb will require more thought. An Edison bulb may not be enough, whereas bright LEDs may be too much since the bottom is exposed and there is a slight reflection off the inside.
Full Flush Ceiling Fixture Set


See Current Price Hanging fixtures are great for filling up large rooms but risk making small rooms feel cramped. Avoid becoming claustrophobic by opting for a full flush fixture.
These in particular sell in sets of 4 or 12 and tick all the right boxes. They:
Hold long-life LED bulbs so you don't need to bring out the ladder every few months to replace them
Give you the choice of 3 color intensities (3000k, 4000k or 5000k. The latter being daytime white)
Are compatible with most dimmers
Are super easy to install
One concern to look out for is area of effect. Recessed (and some full flush) lights are notorious for blocking the light in every direction except down. Rest assured that these have a solid 90 degrees of effect.
Tip: Buy a spare set in case you need to replace specific ones or want to install more.
Accent LED Lighting
In short, this is about directing light onto specific items and areas for increased visual appeal. Much like how a frame puts focus on the art, accent lighting highlights whatever you want, such as a prized award, booze cabinet or clock.
Add one of these bad boys to your cart, point it to your favorite man cave memorabilia, plug it in and admire the beauty. Simple, cheap, effective.
Under Shelf LED Strips


See Current Price I say under shelf but these can be stuck in a multitude of places in your den. Line them up behind your desk, along your skirting boards, inside your chest drawer. Don't like it? Rip them out and try someplace new.
Each pack includes either 4 or 6 (depending on what you select) thin LED strips/bars with output jacks, 12-inch extension cable, wall plug, and switch. The strips can be linked together in order to run off the one outlet.
The cheapest version is manually controlled but since the higher-end motion sensing ones cost nearly the same, we highly recommend going for the latter. Opening a drawer to have it automatically illuminated is plain awesome.
And with an average lifespan of 30k hours, it will be your best investment this week!
Battery Powered LED Pucks


See Current Price LED strips are not for everyone. For a great alternative, these LED pucks are cheaper, easier to install, and run for ~100 hours off a single set of AA batteries.
All it takes is a tap to turn them on/off. Or, if you are as lazy as me, use the remote (comes separately, unfortunately). Or, if you are forgetful as me, setup the timer to automatically turn off after a set period of time.
3M sticky tape is provided and is more than enough to hold these small units in place.
LED Drink Display Shelf


See Current Price Currently have your booze hidden away in a cabinet gathering dust and only getting fresh air once in a blue moon? Change that now by displaying them on this purpose-built two-level shelf.
It features internal LEDs which light up the surface and bottles (bottles with unique shapes and grooves look extra cool).
The overall build quality is superb with medium-density fibreboard, laminated to withstand inevitable drips and spills.
Available in the following sizes: 12", 18" (pictured above), 24", 30", 36", 42", 48", 60", 72", 84" and 96"
Customized Designs, the manufacturer, provides additional personalization and options such as engraved logos, exotic finishes, and wall mounts. More info here
Desk Lamps
Let's face it, sometimes the only peace and quiet we get is at night. Whether you use that time to work, write, read, think or build, desk lamps will light the way without you having to flick the main switch on.
Multi-Adjustable Reading Companion


See Current Price This wicked modern lamp has a small footprint and a barrel-shaped shade that will provide all the light you desire. A perfect addition to any minimalistic den.
Two opposite materials can be a risk, but Tomons have smashed it here by using charcoal gray metal for the shade and base, light wood for the arm pieces, and seamlessly merging them into the ultimate reading lamp.
Aesthetics aside, the three hinges held together by metal screws allow you to angle it however you like.
Included in the pack is a lamp, 4W LED bulb (E26-E27 compatible), and instruction manual.
Himalayan Pink Salt Table Lamp


See Current Price Himalayan salt has seen a meteoric rise in recent years. It is claimed to be healthier than traditional table salt due to its long list of trace minerals. The lamp is said to heal.
Though no scientific evidence has come out to back those claims (and is most likely bs), you can not deny that they look cool.
This one features a wooden base, hollow slab of salt, and dimming functionality - altogether weighing around 8lbs.
For some actual science, read up on the effects of blue light on sleep quality. Since this has lower levels of it, it could help you get a better night's rest.
Floor Lamps
Unfortunately, most landlords won't let you drill a hole in the ceiling to install a fixture (they also frown upon you doing your own electrical work. Sorry, Steve). Floor lamps are perfect for illuminating large areas while taking up little space. Just push it into an empty corner and flick the switch. No feeding wires through the attic.
Customizable Color Display Lamp
Three words that best describe this product? Compact. Powerful. Dynamic.
Compact because when you think of 'floor lamps' you get images of big, bulky designs which take up a considerable amount of space no matter how far you shove it into a corner. The thin stand and head the size of a dinner plate make it barely noticeable when turned off.
Powerful because it sports an inbuilt 30W LED that puts out an impressive amount of luminosity.
Dynamic because the glass head can swivel in many directions and it connects with your phone (app needed). Witness it "dance" to the music and rotate through an endless array of colors.
Idea: If you have some programming skills, the Bluetooth compatibility will allow you to create some impressive color shows.
Minimalist Adjustable Standing Lamp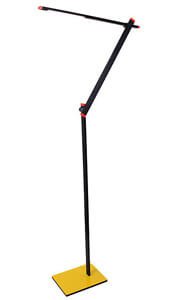 | | |
| --- | --- |
| Dimensions (LWH) | 9" x 21" x 36" |
Here is a minimalistic lamp with refined edges, touch controls, and an overall slender design. A bigger budget is required but what you get is an expertly crafted item that could pass as being a work of art.
Key features:
Intuitive touch-controlled dimming
Sturdy base
Various styles available (with slight variances in price)
Made in America
Wall Fixtures (Sconces)
The last type we have for you is the wall fixture (commonly referred to as sconces). They have been lighting up dark, secluded tunnels for centuries. Although old, lantern fixtures are still on the market, there are some incredible modern ones as well.
Wall Mounted Reading Light


See Current Price Lack the resources to install a ceiling fixture? Bachelor pad too small for a floor lamp? Mountains of paperwork scattered over your desk? This wall mounted piece is exactly what you need.
With a gloss-finished aluminum base, hidden brackets when mounted, and adjustable cord, enjoy the perfect match of form and function. Use it as an entrance feature. Brighten up your workspace. Shine it on your dart board for some midnight games.
Other points:
Choice of four color intensities ranging from warm yellow to standard white
Long 6.5" power cable
Full installation kit included
Tip: Mount it to a separate plywood backing to minimize damage to your wall (if done right, it can end up looking better!)
Vintage Wire Cage Sconce


See Current Price This is one of my personal favorite styles. The back plate connecting to a hinge which leads to a metal cage housing a single bulb.
Rustic bronze screws both hold the rods in place and look great against the dark matte coating on the metal.
As you have to source your own bulb, you will need to unscrew each rod in order to fit it in. A finicky process best tackled before wall mounting.
Sources