Man Cave Signs - The Perfect Gift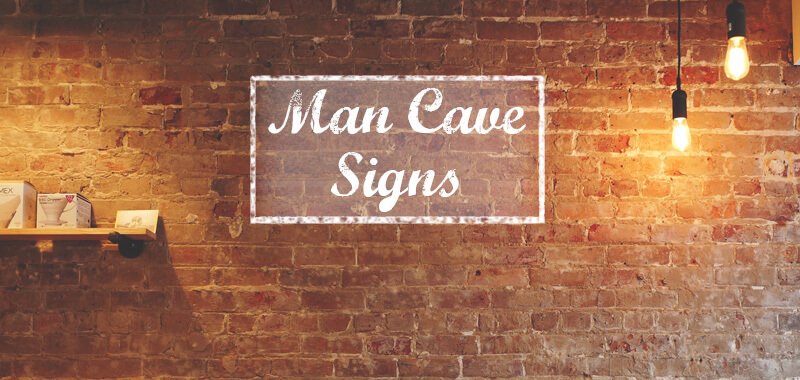 If you ask 100 people what item you most commonly find in a man cave, 95 will answer with "a sign" and the remaining 5 will look on perplexed as they visualize a rocky cavern in the side of a cliff.
It is an inexpensive way to add character in a room without sacrificing space. But take note: not everyone will fit your theme. A neon sign will look out of place in a rustic barn setting. Similarly, a vintage sign in a modern den can be an eyesore.
We have collated different types of signs to help you choose the one for you. If you're still not sure by the end, print out a few designs on A4 paper and stick them to a wall.
Personalized Signs
There are thousands of options to choose from if you want something cool and generic. Your options tank when you want a custom sign for your man cave. Think of it, "Jake's Man Sanctuary" won't be mass manufactured like the generic ones are (in saying this, there could be a warehouse in Texas stacked full of them, hoping everyone names their child Jake!).
Custom Design - Neon
| | |
| --- | --- |
| Dimensions (WH) | 12" x 8.5" |
One option is this personalized neon board from AdvPro. You will your name in western-style typography. The template shown above remains constant.
The light will last over 100k hours and can switch between 7 colors (contact the seller if you want them to change the default color before shipping it out).
Rather than cheap plastic which is flimsy and often cloudy in appearance, acrylic is used instead.
[Your Name Here]
Another one to put your name on. This is an inexpensive piece which is very much WYSIWYG (What you see is what you get). We recommend sending them what you plan to have on there and asking for a quick mockup.
Man Cave Rules
Remember the quintessential part of your childhood tree hut aside from the ideas fostered there? You know, the home-made "No Girls Allowed" sign hanging at the base (or was that just in the movies?). These are adult equivalent.
Black & White
| | |
| --- | --- |
| Dimensions (WH) | 12" x 18" |
This simple sign is made from tough sheet metal and is a life philosophy which guides many of us males. Text: "Scratch where it itches; hydrate with beer; no chick flicks; the remote is mine; no crying; flatulence allowed; my team wins; belch freely; eat bacon; selective hearing only".
The lettering is rapidly heated to embed it into the steel coating (a phase transition known as sublimation). A hole is drilled into each corner so you can hang it with some string or nail it straight into your wall.
10 Man Cave Rules - List
| | |
| --- | --- |
| Dimensions (WH) | 11.8" x 15.1" |
Sharing a few rules with the one above, this weathered-look tin sign is perfect for most man cave themes.
It's a shame they aren't using a high-quality photo in the featured slot as the real thing looks much more refined and premium.
Neon Signs
Club owners don't just stick these up for the sake of it; they are attention-grabbers that help drive business. Now, you may not want 21-year-olds to line up outside your door, but the novelty of a neon man cave sign is well worth the money.
Standard Man Cave Lettering
| | |
| --- | --- |
| Dimensions (WH) | 19" x 10" |
There's no mistaking what type of room people are in with this hanging by its chain.
The lights continuously flash so consider putting it away from a TV (or anywhere your eyes face the majority of the time). However, the power cord has an on/off switch to conserve power during the day.
Open Bar
| | |
| --- | --- |
| Dimensions (WH) | 19" x 10" |
Built yourself a bar but feel as though something is missing? This bar sign could be that finishing touch.
Made from quality LED lights, your friends will see this through your window from down the road. They will last around 100k hours but will die out long after alternative lights due to its motion sensor - keeping lit when you're in the den, and off when you're at work.
Wood & Metal
It Stays In The Cave
| | |
| --- | --- |
| Dimensions (WH) | 12" x 16" |
This is a personal favorite of mine which copies from the famous saying: "What happens in Vegas stays in Vegas".
It's made from metal and although doesn't have the 3d lettering the image portrays, it has plenty of texture and vibrancy. A lot of work has gone into designing and building it.
Funny Signs
Novelty signs with a little humor will always be popular. Life is often overly serious so it's refreshing to retreat to your dominion - avoiding politics and economics for a few precious hours. Here are a few notable ones for sale:
I'm Totally Flexible
| | |
| --- | --- |
| Dimensions (WH) | 9.8" x 3.5" |
"As long as everything is exactly the way I want it, I'm totally flexible" painted on a wooden plaque (bold, uppercase font with rustic marks).
Everyone has that person in their lives which takes control to another level. They plan things to the minute and feel anxious when things veer off. Or maybe that's you? Whether you get this as a friendly jab or for self-deprecation, it's definitely a conversation starter.
No Trespassing
This sign, made in Georgia, USA, is a striking twist on the common No Trespassing warnings. Because it's made for the outdoors, it uses high-quality metal and printing techniques in order to handle sun, wind, and hail.
Others we've chuckled over:
"This property is protected by a husband with a gun and wife with P.M.S. Guess which one is home?"
"Violators will be shot, survivors will be shot again"
"I can make it to the fence in 3 seconds.. Can you? [picture of dog]"
Beer & Bar Signs
Man cave bars are by far the most popular, however, many guys are out of ideas after adding a bench, some stools, a fridge, and a keg. Again, wall decor is where it's at! And your choices are endless.
Something To Believe In - Tin
| | |
| --- | --- |
| Dimensions (WH) | 13" x 16" |
Feast your eyes on that beer head. Made from tin, this vintage sign will take you back as early as the 1930s. The rusted edges and scratchings only add to the authentic look.
An overall hearty American blast from the past.
It's 5:00 Somewhere - Neon
| | |
| --- | --- |
| Dimensions (WH) | 18" x 14" |
With neon lights being supported by a metal frame you'd swear this weighs more than the 2 pounds it actually is. But don't mistake that for weakness. The team at AOOS handmakes their signs to ensure they withstand a bar environment. Trip on a rug and fall shoulder first into it? No problem!
This is perfect for a den with a beachy vibe.
Miller Brewing Co. - Tin
| | |
| --- | --- |
| Dimensions (WH) | 16" x 12" |
Miller beer has come a long way from its Milwaukee origin. It has become a household name and is the drink of choice for many. Does that include you? If so, show your love with this worn, rustic item.
The old school typography is still there, the eagle has its wings flared, and the bottle looks as refreshing as ever.
Budweiser Brewing Co. - Tin
| | |
| --- | --- |
| Dimensions (WH) | 16" x 8.5" |
No introduction needed. This is another vintage sign which brings back the nostalgia of youth. There are holes in each corner so you can fit some string and hang it, or go the permanent route and nail it into your wall.
Note: KegWorks, the makers, are master crafters who don't mass produce for the sake of more profit. Care is put into each one.
Jack Daniel's - Tin
| | |
| --- | --- |
| Dimensions (WH) | 12.5" x 16" |
More a spirit guy? Then this Jack Daniel's lettering on metal sheeting is the perfect gift for you or your friend. Weathered edges, scratched paint, and solid build will make any bar better.
Sports of All Sorts
As a hardcore fan, you need a way of expressing your love for your chosen sport. Your sanctuary is the perfect place for that. Rather than going all in and spending your child's college fund on the build, a splash of wall decor may be all you need.
Side note: You'll also have more money to put into a badass entertainment system.
NCAA Basketball
No one does college basketball quite like America. While other countries have only the player's parents and friends going along to watch, American games are watched by millions. What I'm getting at is college sports signs don't exist everywhere, so make the most out of it and hang it high.
NFL Football
Some say having your team plastered on your wall during the Super Bowl gives good luck. Since the science just isn't there to disprove that claim, it's better to buy one. The Super Bowl isn't the time to take risks!
NFL signs come in all shapes, styles, sizes, including street name designs, vintage metal ones, vertical banners, and reserved parking posts to name a few.
MLB Baseball
We are coming up to 150 years since the first pro baseball team was founded! The balls have changed, the bats optimized, but one thing has remained constant - the fan's passion for the game.
Whether you root for the Boston Red Sox or the San Francisco Giants, you'll find a club sign which matches your theme.
NHL Hockey
Pretend your carpet is ice and your walls with plastic boards. Experience the immersion.
Here you will find the perfect plaque to support your team and instil fear into our Canadian hockey neighbors.
NASCAR Racing
Houses and cars have always mixed. Garages protect them from the elements; parents bought racecar beds for their children, and license plates are hooked on the walls. Choose from one of the hundreds of NASCAR-related pieces and keep the tradition going.
Soccer
Technically called "football", we'll call it soccer to avoid confusion (sorry rest of the world!). Add the final touches to your fan-cave decor with these soccer club memorabilia.
USA Sign Ideas
Whether you need a reminder of where you are after waking from a drunken stupor, or you want to show your passion for California, state signs are a must have in terms of wall decor. View them all here (then refine by your home state)
Don't think we've forgotten about our friends above, down under, or across the North Atlantic Ocean.
Canadian Wall Decor - Decent selection relating (mostly) to maple leaves, ice hockey, bacon, beavers, and good manners. View All.
Australian Wall Decor - "Beware of Australian terrier", rugby union plaques, Sydney pride, and an array of Aussie slogans and slangs. View All.
United Kingdom Wall Decor - A smaller selection for a smaller land mass. That being said, they are sure to exert your rich British culture. View All.
---
DIY Project (Using Wood)
Imagine walking down a deserted road and coming across a gate with a house barely seen on the horizon. There's a wooden plank hanging by a chain which blows onto the gate every few seconds. It reads: "Make Your Own Man Cave Sign".
Ok, that would never happen, but that's exactly what we're going to cover here.
You will need: A plank of wood An inkjet printer and computer (or head down to your local copy shop) Adobe Illustrator (or one of these free alternatives) A roll of edging tape A set of paint brushes A spare pen with curved cap Some water
Step 1 - Choose the text/message
Does a quote hold special meaning to you? Do you have a name for your room? Choose something which doesn't have many characters yet will add to the theme and ambience.
Next is the typography. There are many sites out there which have thousands of free fonts to use. Scroll through and pick one which is suitable. Remember to reverse the text before printing.
Tip: As stated above, free alternatives to Illustrator are more than capable of doing the job. They often have beginner guides available.
Step 2 - Print it out
Print it out on special inkjet paper (on more than one page if necessary) readily available at your local copy shop.
Although it is possible to use standard A4 copy paper, they can rip easily (that will make sense later).
Step 3 - Find the timber
Head down to the junkyard and rip off the side of a shipping crate. Other places to look include your garage, under your house, boatyards (for the extra-weathered material), and abandoned barns. Watch out for rot.
Consider sanding it down to flatten the top surface.
Step 5 - Tape the paper on
Place the paper front-side down onto the wood and attach it with the edging tape. Try not to cover the letters with the tape. Even though inkjet is thicker than normal, you should still be able to see through to center it.
Step 6 - Brush it with water
Dip a wide paintbrush in water and put on a layer (do not soak it). Use a smaller brush to trace over the words.
Grab a thin object with a rounded edge (such as capped pen or possibly even your brush) and rub over the text like a coloring pencil. This essentially burns the ink into the wood.
Take your time as to not rip the paper. Add more water if needed.
Step 7 - Remove paper and do the finishing touches
Once your fingers start to ache, take off the paper and admire your work! Awesome job!
For the perfectionists out there, you can do some final touches by drawing over the words to make it stand out slightly more.