Waffle Makers For The Ultimate Breakfast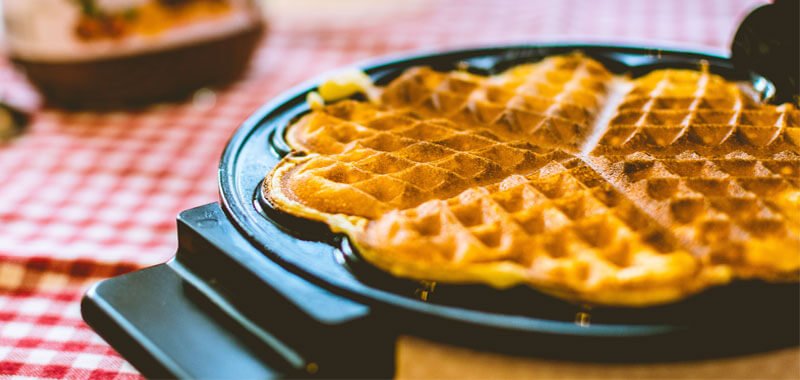 From the shores of Holland to the shores of America, Pilgrims arrived in the early 1600s with tools, rations, and a new food item that would later become one of our breakfast staples: the waffle.
Back then, archaic metal surfaces—some even imprinted with the iconic honeycomb pattern—joined by a hinge were used to cook them. Today, modern waffle makers have rotating mechanisms, LED indicators and timers, all designed for the most consistent output.
This buying guide covers three of the best makers on the market right now so you'll never have to buy pre-packaged, frozen waffles again.
Belgian Waffle Flip Iron
| | |
| --- | --- |
| Weight | 5.8 lbs |
| Dimensions (LWH) | 7.5" x 9" x 14" (lid open) |
Being our overall pick, the Belgian Waffle Flip Iron from Hamilton Beach is consistent in what it produces, barely makes a mess, is easy to master, and is just the right size for a waffle aficionado's man cave.
The short time between plugging in and cutting into your first crispy, whipped cream-covered waffle makes it perfect for everyday use, and judging by its overall build quality, there are a lot of days of use in it.
Flipper
Waffles are in many ways superior to pancakes but one thing pancakes have going for them is the mid-cook pan/spatula flip. Wait for the edges to bubble, flip, golden brown all over; rinse and repeat. Waffles do cook on both sides simultaneously but the pull of gravity means that the bottom side will always turn out different to the top.
Thankfully, this maker features a plastic handle on the clamp side which manually rotates the grids in either direction. Since its main purpose is to spread the batter, it needs to be flipped while the batter is still in liquid form (0-10 seconds after closing the clamps.)
Note: Opting not to flip it won't lead to an inedible puck of pastry so don't feel an obligation to do so if you're more of a "hands-off" guy.
Cleaning
With the grids closing to create an almost non-existent gap, the only ways batter will spill over the edge is if you pour too much mixture in at once or if you leave it angled vertically.
The drip tray underneath is both longer and wider than the grids. Its walls are high enough to prevent overflow onto the counter, however, it will never get to a point where you have let a 1-inch thick layer build up.
Even though the tray—dimensions equivalent to a chopping board—is dishwasher-safe, the little mess means it just needs a rinse and wipe. Give it a proper wash every so often though.
One feature we like about the later model, 26030, is its removable grids that make cleaning even easier. Despite this model, the 26010, lacking that, cleaning is pretty straightforward. Just wait for them to cool down, dab both sides with a soaked soapy sponge, then wipe each nook and cranny with paper towels.
Tip: Crumbs and oil come off effortlessly when the iron is still slightly warm. Waiting too long leads to it baking into the grids; damaging the non-stick coating.
Other Features
A three-setting dial on top of the machine controls the level of browning (1 = light brown, 3 = darker brown.) The likely "sweet spot" is the second setting but we recommended trying each one. Also, go to a lower setting after baking a few waffles since they get progressively darker if left on the same level.
Once plugged in, a red LED will come on indicating that it is heating up. The green LED next to it indicates when batter is ready to be poured.
Keep a timer handy as this model doesn't have an alert for when it is finished cooking. Somewhat unfortunate, but burning them is rare once you get the hang of the timings.
Power: 800W / 120V
Double Belgian Waffle Maker
| | |
| --- | --- |
| Weight | 13 lbs |
| Dimensions (LWH) | 10.6" x 16.5" x 10.2" |
The WAF-20 Double Belgian Waffle Maker by Cuisinart is as close as we found to the best-in-class commercial irons. It makes two at a time, has six levels of browning, deep 1-inch thick pockets, a solid build quality (goes for both the stainless steel and plastic), and a price tag low enough for the casual, morning cook.
It's an overkill for those with lower appetites or who don't need to feed 2+ people, but if you're after the ultimate waffle experience, this is for you.
America's Test Kitchen voted it as their favorite electric waffle iron on the market right now.
Double Production
Like pancakes and French toast, waffles are meant to be stacked. Being able to make only one at a time means that you have to either:
cook less than you want (and leave home hungry)
spend a good portion of your morning manning the machine (and leave home late)
With two sets of grids available, waffles are made twice as fast, allowing you to leave home full and on time. They are attached to the one flipping mechanism so batter is distributed evenly across both sides, leaving you with nearly identical Belgian waffles every time (assuming the same amount of batter is used and the handle is rotated at a steady pace.)
The best process for churning them out in quick succession is to open the lid > remove the waffle > add the batter > close the lid > flip 180 degrees > repeat. It's efficient because, once a rhythm is set, there should only be a few seconds when a side is empty. For a less efficient but more leisurely approach, empty both sides before starting a new batch.
Flipper
The durable plastic handle is attached to the side of the cooker and both rests and pivots inside a notch in the outer frame.
Rotating it requires less effort than you would expect for something holding up double the weight of a standard iron, however, the elongated handle—wide enough to fit four fingers—strains your wrist if rotated anywhere past 200 degrees. We would have preferred a knob or X-shaped handle instead.
Remember to flip right after the grids close so the batter can spread to all the pockets before turning into a solid. Waiting too long leads to a thin, overcooked outside and thick, undercooked center.
Cleaning
Bigger is better for cooking, but the same can't be said for cleaning. Not only is there double the surface area compared to standard machines to worry about, the 1-inch deep pockets have to be cleaned one by one.
Following the same approach mentioned above: wait for the grids to cool down, dab both sides with a slightly soapy soaked sponge, then wipe each nook and cranny with paper towels. Finish off by flipping each side while the grids are open and letting it to drip-dry.
Cumbersome, yes, but well worth the effort as you'll avoid leftovers baking onto the non-stick surface and creating a home for mold to grow.
Tip: Use a plate or paper towel in the absence of a removable drip tray. Drippage mainly occurs when too much mixture is poured (or the handle isn't fully clamped) and having something to throw in the bin or put in the dishwasher is better than cleaning the stainless steel platform.
Other Features
Directly under the handle is a knob which can turn to one of six levels of browning (1 = light brown, 6 = darker brown.) It has excellent responsiveness—meaning it changes the temperature quickly—which is important when you're cooking for several people at once, some wanting light & fluffy waffles, others demanding theirs be crisp & golden.
Two LEDs found on opposite ends of the cooker indicate when the irons are hot enough, while three beeps go off when the waffles are ready to be taken out. So rather than periodically checking how they are going, have trust in the beeps.
Power: 1400W / 120V
Pull-Apart WafflePro Iron
| | |
| --- | --- |
| Weight | 9 lbs |
| Dimensions (LWH) | 11" x 12.5" x 16.2" (lid open) |
The Pull-Apart WafflePro Iron—model number 830—deserves a special mention for its unique design and small footprint.
Messing with the iconic square grid pattern is a bold move but, in our opinion, works out well in this case since it creates a surface that syrup and melted butter flows into. Plus, the five heart-shaped segments pull apart to be eaten like pieces of pizza.
Although flipping waffles is off the table, you can simply grab the handle with one hand and control panel with the other and gently shake around to spread the batter. It also means it is half the size of the first machine on this list; perfect for those with limited bench and storage space.
A switch on the side controls cooking time (slow for extra crisp; fast for a spongier finish.) It stays the same temperature which isn't ideal but at least you have some customizability in timing.
The same beep sounds when it's ready for batter and when it's finished cooking so you the only chance of burning them is if you are on the other side of the house and can't hear anything.
Lastly, cleaning is easier since you can run a paper towel down the ridges of the grills. No 1-inch deep pockets to battle with.
Power: 1100W / 110V
Also Get: Farmhouse Waffle Mix
| | |
| --- | --- |
| Size | 33 oz |
| Number of servings | 19-25 |
Putting aside the picture on the front of the tin, Stonewall Kitchen's Farmhouse Mix make incredibly crispy, golden brown buttermilk waffles.
This is in part due to its American malted flour base instead of generic all-purpose flour which produces a richer, creamier taste while still retaining its fluffiness on the inside.
---
Alternatively, follow any one of the thousand recipes online. Our tried and tested classic being:
Mixing 2 cups of all-purpose flour, 4 teaspoons of baking powder, a teaspoon of salt, and 2-3 tablespoons of sugar into a large bowl. Cracking 2 eggs into a separate bowl along with 1.5 cups of milk (preferably warm), half a cup of melted butter, and a few drops of vanilla extract. After stirring the wet mixture together, pour into the other bowl and whisk until it reaches a semi-thick consistency. Now it's time to cook.
Finish with a little bit of melted butter, a few servings of whipped cream, and a dozen blueberries and you have the breakfast of champions!