Time For A Man Cave Clock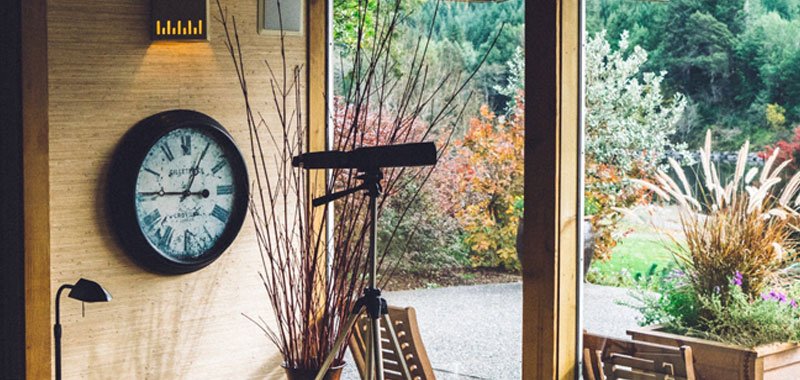 I've heard from several guys recently that the only clock they need is on their phone and that traditional ones are obsolete. Their focus is 100% on utility - but since you're here, you will agree that the benefits of having an awesome timepiece go far beyond that.
On top of telling the time, they add character to a room; shows a degree of class and organization; keep you productive and on track; stop you checking your phone only to get lost in a game or the latest news, and are a cheaper alternative to canvas/print art.
Wall Clocks
Despite the market being in decline, new designs are coming out at ever increasing speeds. Think of the ones we had in the classrooms - plain, boring, and an obnoxious ticking sound that would drive someone with misophonia insane. Nowadays, they are quiet, sleek, and the perfect addition to a man cave. Here are our current favorites:
Minimalist No-Frame Clock
| | |
| --- | --- |
| Diameter | Varies with each installation |
Like your man cave to be as customized as possible? This is the item for you.
The hour indicators can be individually placed - all it takes is peeling off the adhesive sheets and firmly pressing them on a wall. But without proper measurements, the final product will look terrible. Measure twice, press once!
Its semi-reflective acrylic surfaces on both the indicators and minute/second hands make it look ultra modern.
7 styles to choose from, differing in colors (black, gold and silver) and styles (hour sticks, hour numbers, stick/number mix).
Tip: Although it comes with a basic tape measure, use an actual ruler. It would suck to have to look at a crooked piece everyday all because of a piece of flimsy tape.
Rustic Metal Piece With Roman Numerals
Some see a propeller, others see a windmill. Either way, this clock is perfect for converted barns, garages, and any other rustic themed room.
The metal blades, with embossed roman numerals, have a nice weathered appearance; the borders are rounded and slightly thicker (no sharp edges to snag you), and the front plate is light enough to contrast well with the minute and second hands. It has affordability, quality and aesthetics all covered.
Notes:
Requires 1x AA battery, of which isn't included
Direct light from the sun could make it harder to tell the time
It's extremely quiet
Has a hook on the back to hang
Vinyl Clock For Your Batcave
This is one of the few items that will look equally great in your little guy's room as in your own.
Each one is handmade from a 12" vinyl record - being carefully traced, cut, and polished. The craftsmanship is truly next level.
The exposed clockwork not only shows you the inner workings of the device, it contrasts with the black vinyl and makes the hands pop. Couple that with your wall showing through the stencil and you've got yourself a winner.
Novelty Pool Themed Clock
Here's one for when you don't want to taint your game room with an ordinary wall clock.
Ball one to twelve are sliced down the middle and stuck on a green felt mat which is bordered by a wooden pool triangle frame. It's a cool idea but we wish they used a better material for the hands.
As long as your buddy doesn't rip it off the wall mistaking it for an actual triangle, except to enjoy this for a year at the minimum.
Notes:
Requires 1x AA battery, of which isn't included
No loud ticking sound
Cymbal Timepiece For Your Music Room
There are thousands of uses for a cymbal other than to produce sound. You can throw it as a frisbee; use it as a pizza slicer; play with it as jumbo fidget spinner, and, of course, use it as the ultimate clock face.
That's what we have here - a genuine bronze Zildjian cymbal wall piece.
Prominently placed logos isn't everyone's cup of tea, but fans of Zildjian will surely make an exception to this.
Awesome Word QLOCKTWO (10 Color Options)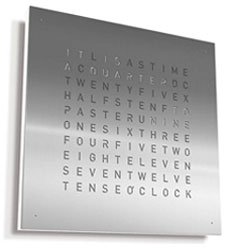 | | |
| --- | --- |
| Dimensions (LWH) | 17.75" x 0.75" x 17.75" |
You're looking at one of the most premium items we've covered on Man Cave Insider. Even if it's out of your budget, it's still a pleasure to look at.
The QLOCKTWO device from Biegert & Funk is a masterpiece in design and engineering. Thanks to its matrix of letters (10 down, 11 across), time is spelled out right in front of your eyes. And not in a jarring way either - programmatic light sensors adjust the brightness levels.
Materials:
Quartz
Wood with lacquered finish
Acrylic or stainless steel front face (depending on chosen style)
Efficient LED lights
Also includes:
Mounting brackets (hidden by the wide front face)
Housing stand (separate accessory)
Discrete power cord
You have the choice of 10 colors, including steel (pictured), vanilla, white, green, purple, brown, red, light blue, charcoal and black.
Note: Don't be fooled by the knock-offs in the market. They may look great at first, but the problems and issues will soon follow.
Neon Clocks
Neon items are so popular that they have to have dedicated sections. Whether you have a game room, home bar or workshop, bright fluorescent lights just work.
Compact Piece With Blue Neon Trim
Nothing fancy, nothing that's going to break your wallet - just a solid neon clock to illuminate your man cave.
The LED tube is surprisingly thick which help light up the numbers and hands. The high-end quartz keeps a precise track of time.
Powering the whole unit requires a battery (not included) and wall socket. Why two sources of power? The battery is for the time and the plug is for the light. Ideally, the LEDs would be powered off batteries as well, but at least their not connected to the one switch.
Harley-Davidson Garage Timepiece
Harley-Davidson has come a long way since its humble beginnings in 1903 Wisconsin. And although they are the leading motorcycle brand first and foremost, they make a range of quality accessories as well.
If you ride a Harley, chances are you matching apparel and biking gear, but what you probably don't have is a wall clock for your garage.
Materials:
Chrome-like frame (looks good and keeps weight down)
Blue neon LED trim (110v)
Quartz mechanism
Personalized Neon Garage Clock
Products that are personal in some way are greatly sought after. Yes, you share your name with millions of others, but it takes a generic item and makes it yours.
The neon lights, illuminating the hands and 3D engraved hour numbers, are bordered by an aluminum frame.
Comes in blue (pictured / default), green or red. Request the color you want in the buyer's notes text field.
Related: Personalized neon signs
For Your Desk
Timepieces for your wall isn't the be-all and end-all - there are literally thousands of ones for your desk, bench, shelf, and anything else with a flat surface. Here are a few unique items which both look awesome and won't break after 24 hours.
Have a sundial in your house? Please send in pictures! That would trump everything shown here.
Handcrafted Vintage Nixie Clock
| | |
| --- | --- |
| Dimensions (LWH) | 7.5" x 3.75" x 4.5" |
This handcrafted Nixie box from Nuvitron is an absolute gem - each taking over 24 hours to build.
The Nixie tubes are without a doubt the most interesting part of the unit. Not only are efficient - using less power than necessary in order to extend their life - but they genuine and straight out of the Soviet-era.
A nicely cut wooden encasing hides the circuitry and keeps things looking mighty fine (Art Deco style).
Other features:
Displays time (hours and minutes / 12 or 24-hour display)
Displays temperature (both versions)
In-built alarm function
Adjustable brightness
Controls hidden on the back
Note: The Nixie tubes are designed to pop in and out. If they die (and that's a big if), Nuvitron sells sets of replacement tubes already wired and ready to go.
Large Digital Display With Back Stand
| | |
| --- | --- |
| Dimensions (LWH) | 18" x 3" x 13" |
Commonly referred to as atomic clocks, these tap into different frequencies in the electromagnetic spectrum and pulls the data into an easily digestible dashboard. You'll be able to find detailed explanations of how it all works elsewhere, but just know that they track time to precision.
This one in particular has a huge screen which shows the time, date, day of the week, and temperature.
You can:
Set it to 1 of 6 different time zones
Choose between a 12 or 24-hour display
Choose between a black, white, brown or silver colored frame
Lastly, it comes with a set of long-life batteries! It's always nice to see sellers throwing in batteries. They're cheap and save us men from having to rummage through drawers.
Unique LED Binary Display
| | |
| --- | --- |
| Dimensions (LWH) | 4" x 3.5" x 1.8" |
Whether you're a fan of binary code or simply want something novel for your den, this LED binary unit will be the ultimate conversation starter.
It may look like a foreign language at first, but once you get the idea, you'll only need to glance at it to know the time. From wikiHow:
Decode each binary digit
Read the hour by decoding the first section
Find the minutes using the same process as before
Decode the seconds
Combine the numbers to read the time
Prepare for the questions and confused looks. "How does it work?", "what's it trying to tell me?", "wait, is that a modem?".
Note: It will be overly bright for rooms that naturally have less light. And with the LEDs constantly changing, it may be more of a distraction than an attraction.
DIY Project - Raspberry Pi
For a more personal gift to yourself, just program one yourself. I say 'just' because Raspberry Pi and online resources make the art of inventing as accessible as ever.
The PiClock project from Hackaday is the ultimate way to get started and get those creative juices flowing.