Foosball Table For The Game Room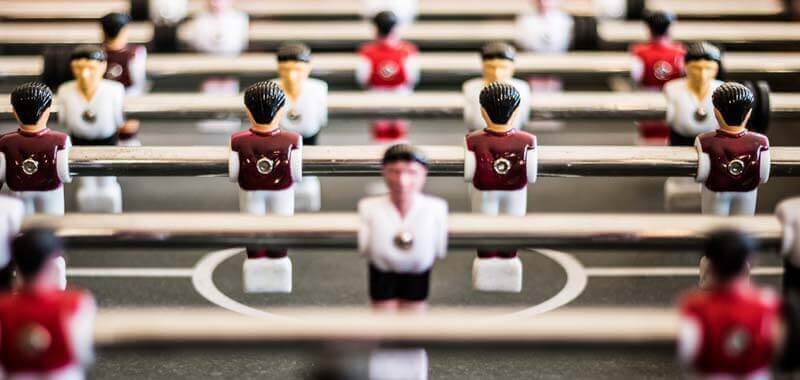 Despite its origins being somewhat under debate, there is no question that foosball is one of the best table games ever created.
Chess may be the thinking man's game. Go may dominate the Asia market. But foosball is right up there - requiring skill, coordination, strategy, and even a little athletic ability to master.
Whether you are already a seasoned professional or a complete beginner, one of the tables below will be the ultimate addition to your man cave.
Full-Size Tables
These come in all shapes and sizes but have one thing in common - they stand on their own. The following ones have been carefully selected to balance cost, quality, size, and features.
55" Chrome Triumph Table
Measurements
Main dimensions are 55" long, 30" wide, and 36" tall. For comparison, the Tornado's high-end Tournament 3000 is a mere 1" longer. "What does that mean and why should I care?" You will be playing on a, for all intents and purposes, regulation table like what the professionals use. If you find yourself falling down the fuzball rabbit hole, you will be already accustomed to the real deal - making your future career in the game all that much easier (these things are that addicting)!
Keep in mind that when the rods are pulled (or pushed) out fully, several more inches are added to the width. Even though most people play close to the rods in order to maximize leverage, smaller man caves can become cramped.
As a rule of thumb, there should be a 4-foot gap on either side excluding the rods
The complete unit comes in at just under 140 pounds which is lighter than top-tier alternatives but still sturdy, especially since cross-beams connect the legs and the considerable area of the legs.
Materials
Medium-density fibreboard (MDF) makes up the core of the board, not only bringing the cost down, but the overall weight down too. This is not a case of Triumph cutting corners as the mix of wood fibers and glue/resin make for an incredibly dense end product. On top of that, it is malleable enough to form to the awkward shapes of the table.
If the base does not account for the weight, what does? Well, the rods! Each one is made of steel with wooden handles that ergonomically fit the hand. Opposite side of the handles you will find rubber caps which stop you from being poked in the hip by bare metal.
As any foosball fanatic will attest to, the bearings which hold the rods in place need to be of top quality. Bad, poorly made bearings make awesome trick shots impossible to pull off. Fluid gameplay? Don't get your hopes up.. Thankfully, this table passes with flying colors.
The players are molded from ABS, a thermoplastic polymer renowned for being ultra tough and the perfect material for something that is going to consistently hit another hard object.
Fun fact: ABS is what LEGO bricks are made of. Those of us who have stepped on one barefoot know their strength!
Chrome detailing is found throughout, being used for the corner brackets, support beams, ball tray, and cup holders.
Features
Leg levelers which allow you to, well.. level your table. Knowing firsthand that even a slight tilt is painfully obvious and as it is painfully annoying, this should be one of your must-haves.
We recommend making a slight adjustment, dropping the ball in the middle and seeing where it rolls. Repeat until it doesn't move.
Rubber pads under each foot help to:
Keep the whole unit from jerking out of place
Protect wood floors from being damaged
Cup holders are conveniently placed on each end, far enough away as to not interfere with gameplay yet close enough to grab a sip while your buddy resets the ball. Just don't fill your cup to the brim - it will spill.
Comes with four balls to get you started (see below for a better alternative)
Two simple sliding scoreboards to keep a track of who is number 1 in your street.
Note that the men are counterweighted (i.e. weights in their heads and toes) which keep them upright after you let go of the handle. When playing 1v1 the last thing you want to do is manually reset rods during the game.
Overall
Several smart decisions have been made by Triumph. The material is suitable for what is being built; everything is well packed; instructions are clear; it is high-end yet not totally out of most budgets; replacing parts is made easy.
If you want to bring the game of foosball into your man cave but want something that won't break from Joe's spinning "technique" then this is for you.
Classic Style Adjustable Table
Measurements
Main dimensions are 64" long, 33" wide, and 14" tall. 64 inches makes it significantly larger than the Triumph one above, but keep in mind that is its total length. The field is 46" x 27", making it also tournament sized.
The extra inches won't impede on gameplay, however, make sure you have plenty of space available.
Total weight comes in at just over 150 lbs, making it one of the heaviest of its kind.
Materials
Both the frame and handles are made of wood with a dark mahogany finish. Despite the steel rods being hollow, rest assured that they won't bend.
The ball retrieval system is comprised of a plastic hose spanning from the goals to a tray of the side.
Features
A unique parquet surface which is essentially wooden tiles arranged in a pattern. Quite different from what you would expect, but cool nonetheless
Scoreboards on either side
Tri-goalie setup. Normally you would see this with smaller tables where adding two more rods would make things too cramped
Counterweighted players
Easy to assemble
Overall
Aside from aesthetics, this is very similar to the table covered above so it comes down to personal preference and how much room you have available.
Table Tops
Many of you guys simply won't have space for one of the above but will have a table or bench that is rarely used. So instead of replacing it with a full-size unit, utilize what you already have and get one of these table top versions.
FX40 Board from Sport Squad
Measurements
Main dimensions are 35" long, 20" wide, and 8" tall. There is no surprise that it is shorter than its full-size counterpart, but something a little less obvious is the length and width reductions. Sitting at 35" long and 20" wide, it is in no way a tournament-ready machine, but neither is it "bite-sized" or a gimmick.
To make it less cramped, there are only three men on each stick (3 x 6 sticks = 18 men). That being said, they are spread out enough so as to avoid constant stop/starting and means you have to possess a certain level of skill to defend.
It weighs in at over 15 lbs which is perfect for quick, friendly games and to bring to your mate's Friday night drinks.
Materials
Both the pitch and walls are made of MDF and wrapped with a vinyl-like film which puts lines on the soccer field and a design on each side.
The rods are made of steel and are of decent thickness. The rubber handles have strategically placed grooves which allow for ultimate grippage (a term you won't hear often) and a place for sweat to escape. And similar to the previous tables covered, plastic caps on the end of each rod make it a bit safer.
Players are made of hard plastic, and although we prefer to see top-of-the-line ABS being used, it simply isn't needed on these smaller boards where you can't generate the same levels of power as with the big boys.
One obvious downside is with the legs (or lack thereof). Yes, this has pads to avoid scratching surfaces underneath. Yes, they are shaped well and easily attached. But after a few dozen games the sleeve helping to hold them in place becomes loose and really messes with gameplay. Our advice: either hot glue the sleeves directly to the table, or replace them with $1 non-slip rubber mats.
Features
18 hard plastic men
Six rods (Three either side)
Goal/retrieval tray combo
Two complementary starter balls
Sliding scoreboards on either side, each with dual pins to keep track of double-digit games and spot cheaters
Tri-goalie setup. The compact nature of this item meant two rods had to be sacrificed, and gameplay would be too limited if they kept the traditional single goalie setup. Looking on the bright side, you can effortlessly dislodge balls stuck in corners!
Overall
The FX40 is a prime example of value for money. It is a perfect party game and will entertain your little ones to no end. Become bored? Slot it into the closet until the foosball-itch comes back.
DIY Project
Contemplate building one yourself. There are several guides you can follow but this one, in particular, is a great starting point.
It estimates the cost to be roughly $450, which includes premium bearings that enhance gameplay. Skip the legs to create a table top version and to bring the cost down.
Balls
Though standalone boards come with complimentary balls, there are two things to note: 1) they will get lost in random nooks and crannies around your den, and 2) there are much better alternatives which make the world of difference.
Official Replacement Balls (4 Pack)


See Current Price Speaking of world of difference, these regulation-grade foosballs will make it nearly impossible to go back to its plastic counterpart.
Aside from looking like coconut crumbed candy, these 35mm balls are dense, reasonably heavy (under 1 oz), slightly elastic, and are designed for all the key table brands.
Unlike plastic stock ones, the elasticity and textured exterior allow you to control them to a scary degree. With some practice, you will be able to:
Stop balls dead in their tracks
Do cross-field kicks
Pass sideways to a teammate on the same rod
Feign a strike on goal
General movement is improved too. It is hard to explain, but think of a soccer ball on grass. When kicking, does it keep going forward without losing momentum (plastic/stock)? Unless you have greased up the surface it is going to quickly slow down (official/textured).
Standard Soccer Balls (12 Pack)


See Current Price Yes, yes.. We just bashed these yet here we are recommending them! Take our word for it: you should definitely have a pack of the Tornado ones above, but you should also have a pack of stock ones too.
The former being for serious, money-winning matches and practicing trick shots. The latter being for games with your nephew or that one friend who just spins and prays.
The cost-per-ball is incredibly low since 12 come in a pack. One flies out of the window? 11 left.
Cleaning & Maintenance
Caring for your new piece of equipment isn't hard once you know what to do.
First up is a must have - compressed air. Entry level cans go for less than $10 and will be your main piece of weaponry for cleaning those tight, hard to reach spots. And better yet, they last for ages!
Next, use a dry cloth with a few drops of rubbing alcohol. Microfiber cloths are preferable for wiping the field since there is no chance of scratching it.
Use the tools provided with your table and ensure the men are screwed tight.
Give balls a wipe down if they fall on the ground. Tiny pieces of plastic and glass that stick on will wreak havoc on the field (very common with cork balls).
Specialized silicone lubricant like this one from Tornado should be applied on each rod once a month.
Foosball Signs
Want table soccer to be the key theme for your man cave? As is so often the case, signs are the answer!


See Current Price This one features "FOOSBALL ZONE" across its 12" diameter. The yellow background is sure to garner attention; the stencil of a table, bordered by a black line makes for a simple yet cool sign. Plus it is made in America!


See Current Price Lastly, we have a minimalistic black and white sign which has an emoji wearing a bandana above the message: "BLACK BELT IN FOOSBALL". It spans 11.5 inches wide, 9 inches tall and is made from plastic/acrylic.
---
Hooked on table soccer? Check out the home of ITSF (International Table Soccer Federation) for up to date news, events and tips.
Related Pages