Man Cave Coffee Tables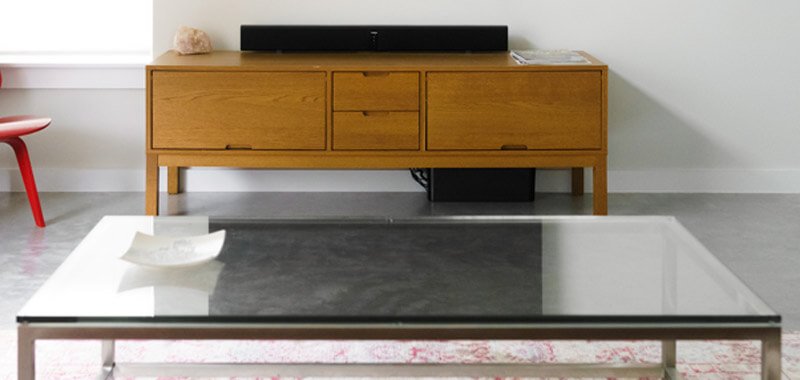 Coffee tables are more than just for filling the void in the middle of the room - they are for holding snacks & drinks, storing things under, putting your feet up, and, every so often, hitting your shin on.
They look great when they match the surrounding decor, and out of place when they don't.
They should be small enough as to not get in the way, yet big enough to be functional.
So, with that in mind, we have curated a range of coffee tables that are affordable, durable, and worthy of being in your man cave.
Modern
This is the design that gives people the impression that you have your life together. Whether it is due to the minimalist approach, the materials used, or the fact that the high-end pieces sell for a fortune, a modern coffee table is a sure-fire way of injecting style into your den; surrounding it with an aura of sophistication.
Minimalistic Metal Table
| | |
| --- | --- |
| Weight | 37.4 lbs |
| Dimensions (LWH) | 44" x 22" x 17" |
This is proof that industrial-style accent furniture doesn't have to cost you an arm and a leg.
With its chrome metal frame featuring X-shaped beams on each side for additional support, and minimal touching points to the ground, an abundance of space is available underneath which, in turn, makes the room feel more spacious.
Resting on top is sizable slab of medium-density fiberboard (MDF), finished with a glossy white coating. We would have preferred better quality wood but, for the price, MDF does the job. It comes in five colors which include white (pictured above), cappuccino, dark brown, natural brown, and grey.
Keep in mind: scratches are more visible on the white and dark brown variations since the wood underneath is a natural brown that shows through.
The Minimalist Metal Table is sleek, sturdy, and blends in with any man cave theme that isn't predominantly rustic or vintage.
Industrial Cage Coffee Table
| | |
| --- | --- |
| Weight | 23 lbs |
| Dimensions (LWH) | 40" x 17.9" x 17" |
Don't let the thinness of the particle board and metal frame fool you. Being both a table and entertainment console, it is designed to hold up to 50 pounds (roughly the weight of a 40+ inch TV and accessories.)
The 17-inch height is right in the middle of the average coffee table height of 16-18 inches, allowing a shelf of the same dimensions and material to be raised off the ground.
Note that although the lighting shows the top as being light brown, it is closer to a brown/grey mix.
What surprised us is the quality of the frame. When set up, it looks and feels like a premium piece of designer furniture. If the particle boards get damaged, they can be easily unscrewed and replaced with a pine or maple alternative. And, if you choose to assemble it without the legs, put plastic floor protectors underneath so air can flow between the shelf and floor.
Mixed Material Base with Raised Glass Top
| | |
| --- | --- |
| Weight | 41.8 lbs |
| Dimensions (LWH) | 41.3" x 23.6" x 17.9" |
Quality mixed-material furniture is hard to come by. That is why we had to include this contemporary Raised Glass Table that looks great from head to toe.
Each C-frame leg--made of MDF--is impaled by two chrome support beams that hold the clear tempered glass panels in place. So, with the wood frame never actually touching the glass, the table tops appear to suspend in mid-air.
Despite the glass panels being thin, the tempering process makes it extra tough, durable, and resistant to scratches and chips. It also happens to be the easiest material to clean and maintain.
The lower tier measures 27.5 inches long and 15.7 inches wide.
The wood is available in three colors which include dark brown (pictured above), bright/pale, and black. The first two variants use the same transparent glass, however, the third features a black-stained top that blends perfectly with the chrome beams.
Traditional
Prefer to stick to what's familiar - to the traditional decor a lot of us grew up with? Then these picks are for you.
Classic Style Space Saver
| | |
| --- | --- |
| Weight | 100 lbs |
| Dimensions (LWH) | 50" x 26" x 19" |
Straight out of an advertising executive's office in the 1960s, this Classic Space Saver features a marble-textured (blend black, white, and brown) faux granite top and a dark stained wood frame with veneer detailing.
The name "space saver" comes from its 37-inch wide ottoman that rolls out from under the table, revealing a well-cushioned faux leather seat along with plenty of storage room underneath. Small wheels make it easy to slide in and out without damaging your floor.
The old, vintage decor contrasts oddly well with a modern built-in charging station.
Tip: use coasters and a serving tray since the polyurethane coating on the faux granite is more prone to scratches.
Perfect for small spaces where multi-functional design is essential.
Large Watson Table
| | |
| --- | --- |
| Weight | 99 lbs |
| Dimensions (LWH) | 42" x 56" x 16.6" |
As much as they try to convince you otherwise - bigger is better. If you have the room available and are fine with sacrificing 3.5 x 5.4 feet, this beast is for you.
Clocking in at just under 100 lbs—significantly heavier than all but one of the tables on this page—the top of the dark brown Mega Watson Table is built with composite wood, manually finished with a distressed grain-texture veneer. That also goes for the frame which is comprised of two C-frame legs and a thick crossbeam running across the middle to provide structural support.
Length and width aside, it is only 16.6 inches tall, giving it the illusion of taking up less space than it actually does. The low-profile is even less obstructive than smaller tables that are 20+ inches tall.
Assembly is straightforward, requiring only one person, but do yourself a favor and use a drill instead of the Allen key provided in the kit.
We recommend investing in a tempered glass top or cloth material. The build quality is impressive for the price, however, chips and stains happen easily and are hard to ignore, ruining an otherwise solid piece of furniture.
This table is unbeatable when it comes to hosting parties and poker games. Just make sure it fits first.
Wood/Mesh Cocktail Table
| | |
| --- | --- |
| Weight | 30.2 lbs |
| Dimensions (LWH) | 41.7" x 17.9" x 23.6" |
This medium-sized Rustic Cocktail Table features a dense particle board top with a 265-pound capacity and an iron frame that connects to an 88-pound capacity mesh shelf.
The top has a weathered appearance, yet the diverse mix of light and dark brown tones make it look more organic. This works well with the grey shelf raised just above the ground to allow for as much storage space as possible.
One thing we didn't find with the other tables that this one has are adjustable floor protectors. Not only do they save you a few dollars on felt pads, they are individually controlled to help ensure an even surface.
Overall, the style mix makes it suitable for any type of decor. Scratches and chips to the wood actually add to the rustic look.
Other Ideas
Nothing peaked your interest yet? Here are some others that we couldn't leave out (including one you can build in your garage.)
Black Upholstered Tufted Ottoman
| | |
| --- | --- |
| Weight | 68 lbs |
| Dimensions (LWH) | 40.5" x 29.5" x 17.8" |
If you always wanted a giant ottoman and don't mind a table with an uneven surface, this upholstered table/ottoman combo is for you.
The tufted bonded leather upholstery—coming in either black (pictured above) or dark brown—covers a thick foam pad that sinks an inch or two when sitting down on.
At 40.5 inches long and 29.5 inches wide, it is larger than most of the tables listed. And at 17.8 inches tall, the wooden base raises the top considerably off the ground.
One of the sides hides a drawer compartment that is perfect for storing remotes, magazines, and anything else thin enough to fit in. Emphasis on fit in. The drawer is shallow. We would have preferred a bigger frame to accommodate a more spacious drawer, but we do see the benefit of having the extra room underneath.
Cleaning is tedious compared to glass and wooden surfaces, especially with the tufts that accumulate crumbs and dust. We found the combination of vacuuming (being careful not to push too hard) and wiping with a damp cloth every few weeks to work best.
Yes, the bumpy surface can be a problem, but that's nothing coasters and a serving tray can't solve.
Stainless Steel Base with Glass Surface
| | |
| --- | --- |
| Weight | 29 lbs |
| Dimensions (LWH) | 39.5" x 39.5" x 17" |
This square Stainless Steel Table from Modway manages to somehow merge minimalism with excessiveness.
It looks like what you would find in high-end pieces priced in the thousands. Yes, those "luxury" ones are made from chrome instead of the polished stainless steel used here, but they look almost identical, and the build quality isn't far off either.
In addition to the three color options of silver (pictured above), gold, and a silver/wood mix, it is part of a wider collection that includes two sizes of dining tables, three sizes of benches, a bookcase, and even office desk.
Packaging is one of its biggest selling points, as strange as that is to hear. Like all Modway furniture, the individual parts are double wrapped in foam and cardboard, minimizing the risk of damage and having to through the effort of having it replaced.
DIY Project - Infinity Mirror Table
Do you have an old table gathering dust in the attic? Wipe it down, give it a new coat, and transform it into this Mesmerizing Infinity Table, powered simply by LED strips and mirrors.
Related Pages