Man Cave Recliners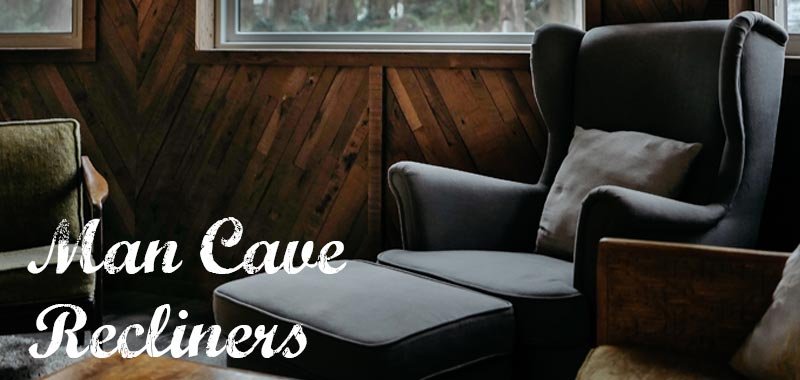 "The greatest thing since sliced bread" is an idiom from 1928 which has stood the test of time but, it turns out, it could have just as easily been "the greatest thing since the recliner" instead.
Edward Knabusch and his cousin, Edwin Shoemaker, patented the design in 1929; just two years after starting their furniture business La-Z-Boy [1].
In those days, leaning back and having your legs simultaneously rise completely transformed what it meant to sit in a chair. Today, they are fit with lumbar support, massage functionality, heat pads and technology to manage your man cave.
Competitors inspired by La-Z-Boy's success have each come out with their own range of items. Here you will find the ultimate man cave recliner no matter your budget.
Skip to:
Affordable Recliners
HomCom Deluxe PU Leather
| | |
| --- | --- |
| Dimensions (LWH) | 32" x 34" x 42" |
| Seat Height | 18.75" from ground |
Features
The material used is PU leather which helps to keep its price down. Split leather and polyurethane (as it is more commonly known as) are designed to make cleaning and general maintenance effortless.
No, the quality won't improve like leather, but PU's own pros make it a worthy alternative. In fact, I'm looking at the material now, and it's looking darn good!
It has an inbuilt massager and heater. This is rarely seen in inexpensive chairs as the manufacturing costs don't add up. So although you won't receive the same massage as a $1000 one, it gets the job done. A subpar massager combined with heating pads for the winter is far better than nothing.
If massaging capability is your most important feature, this isn't the one for you.
On the topic of furniture delivery, manufacturers such as IKEA will give you an oversized puzzle. HomCom's one, on the other hand, assembles in just two pieces. You can drag the box into your cave, slide the parts together and have a snooze in the same time it takes to read those 30-step instruction guides.
This is a solid pick if you don't want to spend a thousand bucks but still want to recline like a king.
Davis Leather Club Chair
| | |
| --- | --- |
| Dimensions (LWH) | 33" x 27" x 35" |
| Seat Height | 16.5" from ground |
Features
The first thing to notice is its modern design. Unlike the bulky ones which populate most of the market, Best-selling (yes, that's the name of the sellers) have seemingly shaved everything but the skeleton and upholstery.
Materials: Sturdy wooden base wrapped in blended leather (fiber, shredded leather and a coating of PU come together to form a value-packed durable leather).
It is seen throughout this price range but is not something to dwell on. If you find a recliner which uses a superior material yet is still cheap, run for the hills because what's inside is better left a mystery.
Its recline-ability is truly something to behold (better understood by clicking the button below). Being able to lay flat doesn't count for much if you're not comfortable, however, that's not so much the material as it is the size. If you're taller than the average American, it'll be akin to sleeping in a single bed with your legs dangling out the end.
If that's not a problem, this inexpensive recliner could be the perfect addition to your man cave; especially if it doesn't allow for the bigger ones to follow.
Dorel Living Dual Padded Massage
| | |
| --- | --- |
| Dimensions (LWH) | 36" x 51" x 40" |
Features
"Contemporary design" are two words which clearly didn't cross the minds of the Dorel Living team. It's more likely that "bigger is better" was written on the walls.
Going back to my previous point, alarms go off when businesses try to fit as much as they can into their cheaper chairs. But here, a smart choice was made by using foam.
The seat and cushions are made from microfiber and sewed into the base. The result? You get all the comfort from the foam while not having to worry about it breaking up or soaking in the inevitable beer-spill.
Again, this isn't so much a massage chair as it is a vibration one. It hooks onto two springs which rapidly shake, not the traits of a massager.
You can almost fully recline (with the leg rest extending 180 degrees) making it by far the best feature. And with the foam cushions being complementary, purchasing Dorel Living's recliner is a wise choice if you want the classic style without spending much.
Note: there have been reports of the base squeaking, but will be no match for WD-40.
Flash Furniture Mahogany Base with Ottoman
| | |
| --- | --- |
| Dimensions (LWH) | 32.5" x 39" x 40.25" |
Features
For some, having a leg rest attached to the base is not ideal. Whether you shift positions a lot or simply feel it gets in your way, a style change is in order.
Luckily, the humble ottoman is there for you. Separated - an office chair and makeshift stool; together - the epitome of leisure.
Both bases are crafted from mahogany which, aside from being the source of its iconic reddish brown color, is a durable timber and a favorite amongst American craftsmen.
The leather upholstery is imitation, but is still one of the more maintainable covers used in the market.
One common feature of the Flash Furniture range is the swiveling mechanism (via ball-bearings). So if you've got your mates over, you can just rotate the recliner as opposed to getting in the deadlift stance to lift it every other weekend.
A lever is used to shift back. And although it works well, keep in mind that it doesn't extend much at all.
This is an excellent choice if your room has space limitations and you'd prefer a standalone ottoman. The structure is sturdy, the upholstery acceptable, but taking into consideration its small price tag, it has a lot going for it.
Midrange Recliners
Roundhill Furniture Dual Rocker
| | |
| --- | --- |
| Dimensions (LWH) | 39" x 39" x 41" |
Features
Starting from the inside, the skeleton is made up of two materials – steel for the rocker, hardwood for the frame. The back and forth rocking motion is always going to show the most damage, so having steel take over that job will definitely pay off in the long run.
The outside stays true to the iconic classic design with its pillow-like armrests and cushions; its oversize nature; and the dark brown color.
Keep in mind:
Image above is lighter than the actual product
Made from bonded leather
Prone to sinking over time, but only to a modest extent
The height of 41 inches means that even if you're tall, the headrest will still support you. A problem we always hear is people having to slide down for it to support them – that can't be good for the back!
Roundhill has made sure you get the most bang for your buck by sticking to the basics. During our research phase, we noticed a trend: the sellers with mediocre products added accessories in the hope that people wouldn't notice.
MCI Tip: When looking to buy furniture for your man cave, ensure the basics are covered. No amount of supplementary features can cover up poor workmanship.
Coaster Home Furnishings Power Lift
| | |
| --- | --- |
| Dimensions (LWH) | 37" x 39" x 41" |
| Seat Height | 19" from ground |
Features
This one is unique. Having 'power lift' in the title initially sounds like a lazy attempt at naming their product. That's until you realize it literally power lifts. Although not for everyone, this is the perfect pick if your body is showing signs of wear and tear.
It uses velvet fabric which, despite the feminine connotation, can enhance any type of room. The downside is its difficulty to clean, so keep an extra steady hand when navigating that whiskey to your mouth.
Alright, it can lift up, but can it lean back? Yes. In fact, you can almost lie flat.
It comes in two pieces so is set up with ease, but we advise you to talk the delivery people into getting it into your den. The total weight is roughly 125 pounds, and assuming you got it solely due to the power lift feature, the last thing you'd want to do is damage the back moving something designed to protect the back.
Disclaimer: Coaster Home Furnishings are one of many companies which make power lift chairs. Click the button below to find similar ones varying in size, price, and material.
Pulaski Larson with Working Desk
| | |
| --- | --- |
| Dimensions (LWH) | 39" x 34" x 29.5" |
Features
Not every man cave suits the puffy design. We've found that the majority of minimalistic cave designs look 10x better with contemporary/modern furniture.
If that relates to you, Pulaski's midrange recliner may be just what you're looking for.
Bonded leather is the material of choice, and although we expect higher quality material at this price range, discovering the treasures inside had us forgiving Pulaski.
The first thing you'll find is a hidden pocket that can store your magazines. Not a game changer, but could save you days of silent treatment if your personal stash gets in the wrong hands.
Next are the cup holders which are vastly underrated. Without them your two options are, 1) balance the glass on the armrest (and see it flying across the room at the next touchdown), or 2) putting the glass on the coffee table (and having to bend down every time you need to quench your thirst).
It's fitted with a swiveling table with is the perfect size to work on your laptop or eat a meal. It can be attached to either side so us lonely left-handers don't miss out.
And in true modern fashion, USB ports are at your disposal so you can work without the need of yet another cable.
The one downside we can think of is its reliance on power. If things turn sour and the cities power is turned off, you won't be able to recline. But that's a risk we are willing to take.
Ideal for:
Minimalistic den designs
The tech fanatic
Multi-seat setup (i.e. movie room)
Premium Recliners
Plywood Eames Lounge Chair & Ottoman
| | |
| --- | --- |
| Dimensions (LWH) | 35.4" x 35" x 31.5" |
| Seat Height | 15.7" from ground |
Features
The makers of this behemoth, MLF, are exceptional at their craft. I urge you to click the image or the button below to get a better look before reading on.
See what I mean?
The upholstery is genuine Italian leather which has been painstakingly assembled - from the ottoman down to each individual button. Soft foam hides underneath, giving you a proper distribution of padding, and seems to merge with the leather so no marks or wrinkles will appear.
Its shell is made from molded plywood—allowing the curves—and finished with a seven-ply laminated veneer so it lasts just as long as the leather.
MCI Tip: When buying premium furniture, make sure the material quality is seen are throughout. The finest leather can last for generations, but if the base starts falling apart in 3 years, it may as well be repurposed into a jacket.
Holding everything up are two aluminum bases with an unrestricted swiveling function (as with the ottoman).
If you're willing to spend a few hundred dollars more, we highly recommend this one. Not only will its longevity save you money over time, you will get the same level of pleasure on the 1000th sit as on the 1st.
Note: There is actually a rich history to this lounge design. Let us know if you want to hear about it.
Oslo Collection Swivel Recliner and Ottoman
| | |
| --- | --- |
| Dimensions (LWH) | 34.5" x 22.75" x 30" |
| Seat Height | 18.5" from ground |
Features
The next bad boy we have for you is part of the Oslo Collection family. Though not my first choice of color, the product itself is sure to fit a range of caves across the nation.
Similar to MLF's one above, top grain leather is used throughout. The bases are made from hardwood regardless of its total weight (~90 pounds), the last thing on your mind should be about it breaking.
It uses memory foam as the main padding. Found mainly in the bedroom, the sheer step up in quality has led some manufacturers to choose it over standard foam.
But understand that their focus on making it the perfect lounger has left sitting up straight difficult. There is no issue with reclining down (or resting your legs on the ottoman) though.
The thin armrests help to make the overall width only 22.75 inches – one of the smallest we've come across and ideal for the man cave with space limitations. Wedge it between your speakers; store the ottoman when people come over; plant a speaker between the base and the chair.
Verdict: Oslo Collection has used some of the best material available which directly translates to comfort. That being said, keep on searching if proper posture is a requirement. Other than that, it's hard to find any faults.
Cozzia Dual Power ZG
| | |
| --- | --- |
| Dimensions (LWH) | 46" x 31.5" x 42" |
Features
Take a few seconds to adjust your eyes. You're looking at a fully extended zero gravity recliner. Though not exclusive to Cozzia, they excel in building this style.
Video summary found here (mind the accent and the flying through space).
Due to its awkward center of gravity, the legs are made from timber known for its stability – beechwood. It comes in one color—black—but the bonded leather comes in three – black (pictured above), tanned brown, and ivory (greyish-white).
As mentioned in the video, you'll have access to a vibration massage and heat therapy with the press of a button. This is an example of those features done well. The thought and technology gone into creating that functionality is something which the cheaper man cave recliners can't match.
The head and footrest have separate motors so the control is in your hands.
Be careful: a test drive in the Cozzia Dual Power will have you buying one as your man cave recliner and another to admire from across the room. It's that good.
Sources:
[1] Edward Knabusch and Edwin Shoemaker, Lemelson
Related Pages