Indoor Hammocks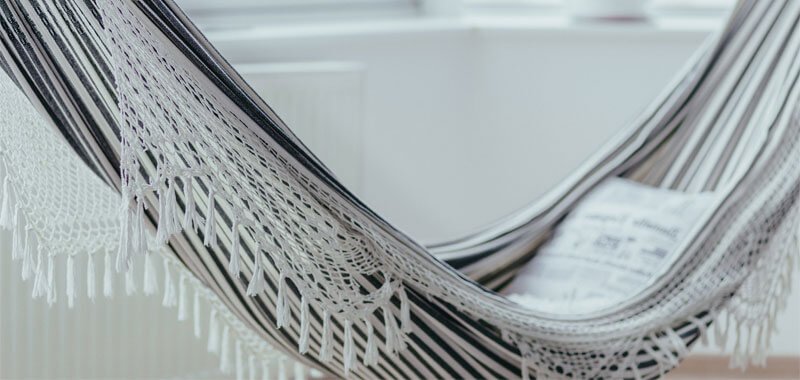 Having a hammock in your man cave is a game changer.
No other piece of furniture combines supreme comfort, portability, and space-saving quite these human-sized suspended slings.
Whether you are looking for a place to chill out and read, or just want somewhere to take a snooze, our research has led us to three hammocks that are high-quality, affordable, and perfect for indoor use.
Luxury Cotton Double Hammock
| | |
| --- | --- |
| Weight capacity | Weight capacity 475 lbs |
| Dimensions (LW) | 144" x 59" |
Extending over 140 inches in length and built to hold up to 475 pounds, this luxury cotton double hammock bed is a heavy-duty private retreat that is large enough to fit two people with room to spare.
True to the word "luxury", it is constructed of high-quality color-fast cotton and reinforced with polyester (65:35 ratio respectively). The cotton is specifically woven to support up to 475 lbs while still being able to stretch. Even the edges are purposely frayed to give it a rustic feel but is done in such a way that it doesn't fall apart.
Chairs and couches can get away with being made of inferior materials. No, they won't be as comfortable or last for a decade, but they will be usable. Hammocks, on the other hand, support your entire body weight with a single layer of fabric so need to be made to last.
This is made to last.
Available styles include natural beige (pictured), orange with yellow stripes, and a blue/green stripe pattern. Each one coming with a matching carry pouch.
Vivere Free-Standing Double Hammock
| | |
| --- | --- |
| Weight capacity | 450 lbs |
| Dimensions (LW) | 108" x 42" |
If your landlord said no to drilling a hole in your walls or just want something more temporary, this one from Vivere is a leader in the free-standing hammock space and takes less than 10 minutes to assemble.
Its charcoal steel frame has a u-shaped groove on either side along with adjustable hooks for the hammock to wrap around and attach to. A low hook placement equals more tension and is a better position for sleeping. A high hook placement is suited for sitting and lounging since the middle droops closer to the ground.
Three choices of fabric:
Cotton – Easy to clean and doesn't sweat like synthetic material
Sunbrella – Exclusive Sunbrella acrylic fit for both indoor and outdoor use
Polyester – Stain-resistant, stretchable, and resilient
There is a wide assortment of pattern styles to choose from, including carousel confetti, desert, lagoon, retro, the tropical one pictured above, and much more.
Note: Some patterns are only available in one or two of the three materials.
Overall, this is a great pick for the casual hammocker. Not having to make permanent modifications to your walls is a bonus. And, if needed, it can easily be unhooked from the frame and taken camping.
Single Hook Hammock Chair
| | |
| --- | --- |
| Weight capacity | 330 lbs |
| Dimensions (LW) | 73" x 40" |
This alternate seating hammock/chair hybrid is perfect if all you want to do is chill in a semi-upright position and don't care much about lying down or using it as a second bed.
The key difference to traditional hammocks is its single hook design that attaches to a wooden (or sometimes metal) spreader pole that holds up the seat. With the ends being much closer together, the sides envelop you when sitting to create something resembling a cocoon.
It is made from tightly-woven cotton and is surprisingly thick compared to other single hook hammocks on the market. Although that means it stretches less, it is significantly more durable as well as more comfortable for extended periods.
The provided installation kit includes a ceiling suspension screw, two S-hooks, and a chain for lowering the height. That being said, you can buy a more industrial screw if you are worried about the weight capacity.
Available in teal (pictured), brown, and red. And regardless of which one you pick, you get an awesome crocheted beer holder that hangs down from the wooden support pole.
Indoor Hanging Kit
Setting up a hammock outdoors is simple. Find two trees (aka Nature's support beams) a certain width apart and secure it to the thickest branches.
Unfortunately, man caves don't have that option. Other than purchasing a free-standing steel frame like the Vivere one above, the most secure and quickest way to get hammocking is to screw attachments into your walls.
There are hundreds of options to choose from but this simple fully-welded hook & carabiner set provides all the support required without being a big eyesore.
Simply find the studs in your wall and screw in the hooks high enough to account for how low to the ground you want to be when sitting or lying down.
We suggest installing it after you receive the hammock because only then will you know how far apart the hook needs to be.
Related Pages