Hunting Themed Man Cave Ideas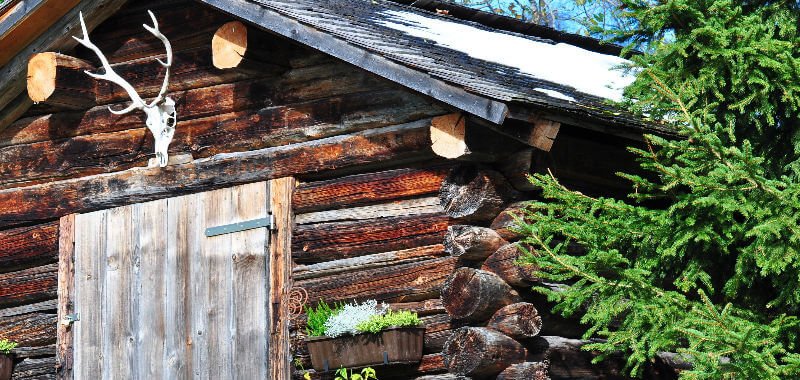 As hunters, it's a given that we want to show off our achievements from the countless trips we've been on. Be it deer, elk, moose, boars, or random finds and incredible sceneries, a hunting man cave is a perfect place to capture and share those memories.
Here are some ideas to get your cabin fleshed out and ready for your own trophies.
Wall Signs
Signs are a simple and affordable way to theme your pad. You could have the most generic room, but by putting the hunting signs below on each wall, a theme starts to emerge.
Also see: man cave sign ideas
Miller beer high life
Same with how you shouldn't drink and drive, you shouldn't drink and hunt. However, that doesn't mean we can't combine the latter two in other ways. A case in point being this vintage-style Miller Brewing Company wall sign.
It is of a man with a rifle tucked under his arm is calling to his dog which has a bird in its jaws while the sign reads: "Reach out for finer flavor; enjoy life with Miller high life. The champagne of bottled beer."
Constructed from tin, the rounded edges are faded and scratched, giving it a rustic aesthetic. And despite only measuring 7 by 10 inches, the typography and graphics are sharp enough to be read from across the room.
Deer crossing warning
| | |
| --- | --- |
| Dimensions (WH) | 12" x 12" |
With a 12-inch diameter, this tin warning sign is the largest of the three and is something you would have to travel out of the city to encounter.
The yellow background and black deer silhouette above the word "xing" (crossing) is made to look worn/weathered; like it has been exposed to the elements for years.
If you can get past the cartoony gunshot decals, then it will make a decent addition to your den.
"If a man is all alone in the woods with no women to hear him, is he still wrong?"
| | |
| --- | --- |
| Dimensions (WH) | 11" x 5.5" |
This American-made phrase sign is around half an inch thick and, unlike the two ones above, suspends from twine rope.
The worn, grayish lettering on the black background makes it easy to read and hard to miss.
They are relatively straightforward to make so if you have the time and supplies, give it a go with your own slogan.
Handmade Vinyl Clock
This quiet, AA battery powered wall clock features a dog onlooking a hunter aiming a rifle at flying ducks.
Unlike the generic print on a clock face, this is a vinyl record stencil which—despite being only black and white—is full of character.
The only drawback is its odd clock face to dial ratio. The hours and dials are small compared to the 12-inch diameter clock face, making it hard to tell the time from across the room.
Note: The makers also accept custom orders. Simply attach an image with your purchase (less detail the better) and they will ship you your very own personalized clock.
Antler Coat Hanger
| | |
| --- | --- |
| Dimensions (LWH) | 7" x 3.5" x 4.5" |
As convenient and economical as 3M hooks are for hanging clothes and keys, they don't fit the hunting man cave theme as well as these stylish cast iron antlers.
Mounting them requires two screws and wall anchors (provided in the box). Admittedly, 3M's industrial adhesive tape would be better, but if a few screws in our wall is what we have to do make a hunting man cave, then hand us the screwdriver.
In addition to the rusty brown style pictured above, the other variations include a distressed/weathered white, copper with black accents, gold with black accents, and silver with black accents.
They are also great for the kitchen, entryway, shed, garage, and anywhere else you have free rein of screwing holes into.
Wood Coffee Table
| | |
| --- | --- |
| Dimensions (LWH) | 42" x 24" x 18" |
| Weight | 86 lbs |
With a black-coated metal frame that supports two rustic wood table tops, this coffee table is a perfect fit for a cabin.
The thickness of the wood and the simple construction of the legs make it incredibly sturdy for something under 100 pounds. And, unlike mass-produced fibreboard furniture, each piece is unique - featuring specific bar pockets, grain patterns, burls, and other imperfections that bring out its individual character.
Pictured above is the mid-sized table. You also have the option of a smaller 27-inch long one or a larger 48-inch one.
Tip: When the wax coating begins to wear off (takes a couple months from previous experience), use a natural wood furniture polish to protect its unique color palette.
Buckshot Coaster Set
| | |
| --- | --- |
| Dimensions (LWH) | 5" x 5" x 2.5" |
| Weight | 1.25 lbs |
A new coffee table requires a set of drink coasters.
Made from polyresin (a material perfect for elaborate molding projects), the five coasters come with an equally impressive matching container with a notch in the front for easy removal.
Buckshots not your style? Try these other themes made by the same company:
Antler holder with tree trunk slices
Fire hydrant holder with fire department emblems
Fishing bag holder with fish bait coasters
Tree trunk holder with camo print coasters
Novelty gifts like these are notorious for being poorly made and short-lived, however, each of these themed coaster sets is high-quality and refuse to stain.
Camouflage Rug
| | |
| --- | --- |
| Dimensions (LWH) | 92" x 48" x 1" |
| Weight | 17 lbs |
Want something beneath your feet but don't want to cover that hardwood floor with carpet? A rug is the answer.
This camouflage one featuring a muted color palette and abstract patterns is ideal for your hunter hideout.
With a 1-inch tall medium pile (bordering on a long/shaggy pile), it is as soft as you would think without being difficult to clean. Also, there is minimal shedding due to being made out of polypropylene fibers - a moisture-resistant and durable synthetic fabric.
Various sizes and dimensions are available, including large 8'6x12ft area rugs all the way to long 2'3x11ft entryway rugs.
Whatever size you opt for, it will be easy to maintain, have a dense yet soft pile, and sport an awesome camo design.
Pine Cone Table Lamps
| | |
| --- | --- |
| Dimensions (LWH) | 14.5" x 14" x 24" |
| Weight | 13.5 lbs |
This set of outdoor-themed lamps take you straight to the pine forests of Montana.
Resting on a bed of rocks next to some fallen pine cones are sets of entangled antlers. The golden brown paper lamp shades have tree silhouette detailing and, to top things off, the light pull cord has a miniature pine cone to hold; because why not?
Turned on, the light travels through the golden brown paper shades to give it a warm glow. It also means you can use the brightest compact fluorescent lamps (CFL) with it being distracting.
Yes, the quality of the rocks and antlers could be better (same goes with the paint job), but that can be easily fixed with some 300+ sandpaper to roughen it up and give it a more rugged, natural look.