The Ultimate Smart Cave

Automation isn't just for large-scale enterprises and factory lines. People from all over the world are automating their homes in awesome, ingenious ways, and there is no better place to see this than in the man cave.
Whether your den is already half a robot or this is your first time hearing the word domotics, this buyer's guide covers the main areas of home automation and is sure to spark some ideas.
Audio
A sound system is the cornerstone of any good pad. Give us good tunes and cold beers and we are set. Trouble is, having to type in an artist and scroll through a list of songs becomes a pain. With voice search and a bit of machine learning, choosing the right song has never been easier.
Amazon Echo (2nd Generation)


See Current Price Despite technically being a speaker, the Echo can act as the central control for your smart home, firing off orders and commands all through the friendly voice of Alexa.
Function
It bridges the gap between your smart devices by communicating what each should be doing. However, rather than doing it through a GUI on a screen, everything is done through voice.
Don't worry if you've had bad prior experiences with voice dictation, Amazon's personal assistant, Alexa, is way ahead of its time when it comes to speech accuracy, speed, and context monitoring. They know that personal assistants are meant to help with everyday tasks, so it defeats the purpose if you have to repeat the same thing three times before it understands.
Alexa can help you with a whole bunch of stuff including:
Control smart devices
Play music
Answer nearly any question
Tell you the weather forecast
Buy groceries
Set timers
Maintain a to-do list
Metric conversions
IFTTT programming (If this then that)
Audio quality is decent--sporting a 2.5" downward-firing woofer--but isn't much of a step up from the previous generation.
Rather than keeping everything in their own ecosystem, they have opened up usage to a range of brands that are leaders in their respective industries. Spotify, Paypal, Uber - awesome services ready and waiting to take your request.
Requirements:
Mobile app
High-speed internet
Design
The biggest step up from the 1st generation is in its looks, opting for a thicker cylindrical shape but with the same LED detail trim on top.
Their bold choice of wrapping the shell in fabric has paid off. It now feels like it belongs on your shelf rather than a metal block that looks out of place.
Style options: Charcoal/fabric (pictured), sandstone/fabric, gray/fabric, silver, walnut, and oak
Alternatives
Aside from the previous generation, the Echo Dot is a perfectly fine substitute which has similar features as the Echo but is roughly half the price. The main difference is its lack of a good speaker, but you can get around that by syncing with an external Wi-Fi or Bluetooth speaker.
For all you Apple-lovers, the HomePod is an impressive piece of tech that will suit you better if every other device in your house is made by Apple. An impressive feature is its inbuilt sensors which analyze the surroundings and adjusts the sound accordingly.
Verdict
The 2nd generation Echo is an excellent choice if you want something compatible with a wide range of devices and brands, and can get past its quirks.
It is continuously improving thanks to advances in technology, companies jumping on board to take advantage of Amazon's reach, and several competitors fighting to take the reins.
PLAY:1 Wireless Speakers from Sonos
| | |
| --- | --- |
| Weight | 4.1 lbs |
| Dimensions (LWH) | 4.7" x 4.7" x 6.4" |
The PLAY:1 may be the smallest of Sonos' three PLAY speakers, but it strikes a great balance between price, sound, and features. Add a second unit to the mix and you have a surprisingly powerful surround sound system.
Function
With the personal assistant market covered, Sonos has put their energy into making truly superior Wi-Fi speakers. It has dual class-D amplifiers which are far more efficient than their analog counterparts. The single tweeter and mid-woofer ensure crisp, high-quality audio with deep bass tones that can be adjusted to your liking.
Trueplay Speaker Tuning software analyzes its surroundings (i.e. size of the room, object locations, material, echo, etc.) and optimizes the sound. Even if your two speakers are in separate rooms, playback can be significantly different.
It can be controlled via your Echo device or the Sonos app. We found the voice control great for simple tasks such as specific song selection, on/off commands and changing the volume, whereas the app is better for playlist navigation and toggling between rooms (speakers can be grouped by room and controlled separately).
Does it lag?
If something isn't plugged in, there will be lag. So it is less about if this speaker lags and more about how much it lags.
From our very unscientific testing, we found a 3ms delay between input and output - practically unnoticeable for untrained ears. Note: several factors can influence delay such as how far it is away from the receiver and if there are objects in the way.
Verdict
There are better speakers out there when it comes to audio quality and power, but very few come close to Sonos' range of features and usability.
This is an example of a wireless sound system done well. The fact that it plays well with Alexa/Echo makes it that much more attractive.
Visual
There was a time when people had to walk over to the TV to change the channel. With the introduction of the first ultrasonic remote in 1956, the Zenith Space Command, people could finally let their fingers do the work while they lounge for hours on end.
That may have been fine when there were less than 20 channels to flick through, but with the introduction of streaming services and a countless list of shows, clips and movies to enjoy, our fingers just can't keep up.
Enter the next frontier in home entertainment - the voice-controlled remote.
Fire TV (4K Ultra HD)


See Current Price It looks like every other remote on the surface - the power button, playback buttons, home, menu. But unlike your old remote gathering dust in the garage, it has an inbuilt microphone that can do everything.
Function
Despite not having all the characteristics of a smart device, its seamless integration with Alexa more than makes up for it. Just ask her what you want to watch and you shall receive.
Don't have a specific movie in mind? Say a genre and their machine learning algorithms will spit out relevant, personalized suggestions.
The setup consists of plugging the dongle into your TV's HDMI port, connecting it to your Echo/Amazon account, and speaking gibberish to have them pair and sync. Here are additional instructions if needed.
Requirements:
HDTV with HDMI input(s)
Wi-Fi internet
Echo device (optional but highly recommended)
You won't get far without an HDTV (or Ultra HDTV), so if you are still putting up with an ancient TV this is the perfect excuse to upgrade.
Verdict
The catalog of 4K movies that comes out-of-the-box is pretty lackluster but is made up by the huge range of TV shows on offer. Thankfully, Amazon makes it easy to stream third parties such as Hulu and Pandora.
With the domination of Netflix and other services scrambling to keep up, you can be sure that the Fire TV constantly be added with awesome new features and content.
Lighting
The scene in 2003's Bruce Almighty where Morgan Freeman claps to turn the light off is arguably the moment America's fascination with smart homes began.
Fast forward to the present day, smart lighting systems offer far more than just clapping switches. They can dim lights based on the time of day, change colors to match the mood, even turn off when you leave the room.
Hue Ambiance Starter Kit from Philips


See Current Price Philips' recently revamped wireless lighting system lets you programmatically control the dimming level, color, and when they turn on/off. Being a starter kit, there is a range of components you can add to it, such as LED strips, motion sensors, and table lamps.
Related: Lighting ideas for your man cave
Function
The two light bulbs don't look much different to standard bulbs. It is only when they are connected to the bridge do you see their "smarts".
Once plugged in, the bridge turns on and begins searching for an internet connection. Open up the app and click find. Done!
Other than now being able to control the lights from your phone (or Echo), you can play with the dimmer, set schedules, and load previous configurations.
Many of us have predictable routines: waking up before the sun rises, leaving for work at 8 am, workout at the gym, home by dark. Teach the machine and save the hassle of flicking the switch yourself.
Expansion is easy. Two bulbs may light up your man cave, but what about the rest of your house? Rather than buying a separate kit, all you need are additional bulbs (max of 50).
The app lets you split the lights into categories (i.e. rooms) and control each one separately.
Each kit contains:
2x A19 LED bulbs
1x dimmer switch
1x bridge
1x ethernet cable
1x power adapter
Instruction manual
How-To Geek has a great guide on setting it up as well as showcasing the different features
Verdict
The lighting market has been saturated for decades, however, smart lighting is relatively open. Philips Hue leads the field at the moment but we want to see more competitors coming in with their own solutions.
Until then, Hue is a powerful, modular, customizable piece of tech that looks modern and refined. The app is easy to traverse and the Alexa compatibility makes it one with your home automation suite.
Start small and add modules as necessary.
Thermostat
Knowing the precise temperature in your house at any given time is nice, but it is what you do with that information that counts. When you see the number rising, you dial it down to stay cool. Too cold? Dial it up. Smart thermostats remove the need to constantly monitor the temperature, often amounting to hours a week in wasted time.
Enjoy a perfect, consistent climate without getting out of your recliner.
Self-learning Thermostat from Nest


See Current Price Founded in 2010, Nest Labs set out on a mission to bring everyday households into the future with smart devices across a range of categories such as thermostats, security cameras, smoke detectors, and doorbells.
Function
The Nest thermostat is all about using data to save you money, having shown that 10-15% of an average heating/cooling bill can be saved when making the switch. How?
It learns your heating/cooling habits and optimizes energy consumption.
Four stages of learning:
First day - Choose a temperature and it will hold it in memory until you change it.
Second day - On top of the remembering the temperature, it will learn when (and how often) you are home.
Third to fifth day - It has learned your basic schedule as well as what temperatures you like at any given time.
Seventh day and onwards - It now has a schedule for each day and continually refines as it is fed with more data.
It is important to note that the more help you give it, the faster it learns. We recommend spoon-feeding it for the first couple days, intervening when it goes wrong rather than letting it learn from its mistakes.
There are several sensors under the hood including humidity, temperature, near and far-field vision, and light.
Can be controlled via the app (requires a Wi-Fi connection), the unit itself (rotating dial and user-friendly interface), or Echo device.
The app even charts your energy usage history and is perfect for spotting inefficiencies.
Design
The Nest has always been sleek, stylish, and exactly how you would picture a smart device to look. Generation 3 is no exception.
Its iconic puck shape is encased in a stainless steel ring (which also acts as the dial) and protected by a durable glass screen. 0.4 inches have been shaved off the total width (compared to generation 1), making it less obtrusive.
The high-resolution 480x480 screen showcases the important information without being cluttered with numbers. One drawback we have is with its bezel. The design team has done a great job at making it complement the display, but it's far too thick for our liking. Check out the side-by-side comparison with generation E: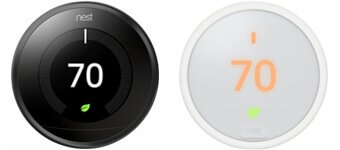 Verdict
By learning your routine and adjusting the temperature accordingly, the Nest does its bit to reduce your electricity bill.
Once you have got over the hurdle of installation and is past the first learning phase, it is a hands-off investment that eventually pays for itself.
Security
Having a secure home (and man cave) should be a priority for everyone who values their possessions. Standard motion sensor cameras are great at capturing crime but they have one major flaw - you only find out about it when you find your window smashed and go to check the footage.
Smart security systems not only capture the crime, they notify you in real-time via a call, text message, or live feed to your phone. False alarm? Phew. The real deal? Call the cops and have them arrive before they even get out of your house.
Arlo Pro Security System from NETGEAR


See Current Price With impressive hardware specs and a laundry list of features such as a high-pitch siren, night vision, and recordings saved in the cloud, NETGEAR's Arlo Pro offers an attractive home security solution that you hope to never need but will pay for itself if you do.
Function
It is designed to be a comprehensive home security system, giving you a first-row seat to your property in 720p HD even when halfway across the globe.
Rather than being on 24/7, deleting old footage to make way for the new, sound and motion sensors turn it on only when needed. The motion sensor uses an advanced wide-angle PID (passive infrared detector) which picks up a rise in temperature and its movement to differentiate object from person. Being infrared, it works flawlessly at night.
The sound sensor is useful for when the target is outside Arlo's field of view. Audio goes the other way too - using the push-to-talk feature, you can remotely scare off intruders and ask delivery people to leave the package at the door.
One of its biggest selling points is storage capacity. No matter which camera you buy, you are eligible for 1gb of cloud storage free (roughly 7 days worth). We found that to be plenty since you can delete old footage which you no longer need. If not, you can get a larger storage capacity at a set monthly price + unlimited support.
Connects directly to your router or via Wi-Fi.

Other features:
Fast charging battery
HD feed
130-degree wide view
Alarm (over 100 decibels)
Verdict
The Canary Flex and other similar products are great in certain areas but not so much in other areas. The Arlo Pro doesn't seem to have any weak points, making it, in our opinion, the best affordable smart security camera on the market right now.
If you are looking for high-quality video, compatibility, storage, ease of use, and real-time updates, this is the one.
Ways to further protect your home
With a camera ready and waiting, you are already ahead of the game. But it doesn't stop there. Turn your den into a fortress by:
Getting into the mind of a criminal. Walk around the perimeter of your property and utilize your fresh set of eyes to spot any weakness (e.g. cat door close to the door handle, spare key hidden in an obvious place).
Befriend your neighbors. Even a small chat will increase the likelihood of them reporting suspicious activity on your property.
Close curtains at night
Get a dog, or at least a Beware of Dog sign.
Put a deadbolt on the back door
The truth is: if someone wants to get it, they can get it. The idea is to make it not worth their effort.
Outlets
Just because an electrical item isn't "smart" doesn't mean it can't be automated. By plugging in, say, a fan into one of these, it is now controllable from your phone.
WiFi Smart Plugs (2-Pack)


See Current Price Acting as the middleman, it powers whatever is plugged into them only when both it and the wall socket are turned on.
Not only can you control the switch via Alexa and the app, you can schedule the exact time it turns on and how long it runs for. Have a pot of coffee ready to go when you wake up. Play music when you get home from work. The possibilities are endless!
Alternatives
There are hundreds of similar products out there which, aside from cosmetical differences, do the same thing. Look for the best offer at the time you buy.